A Love Story (and a Recipe)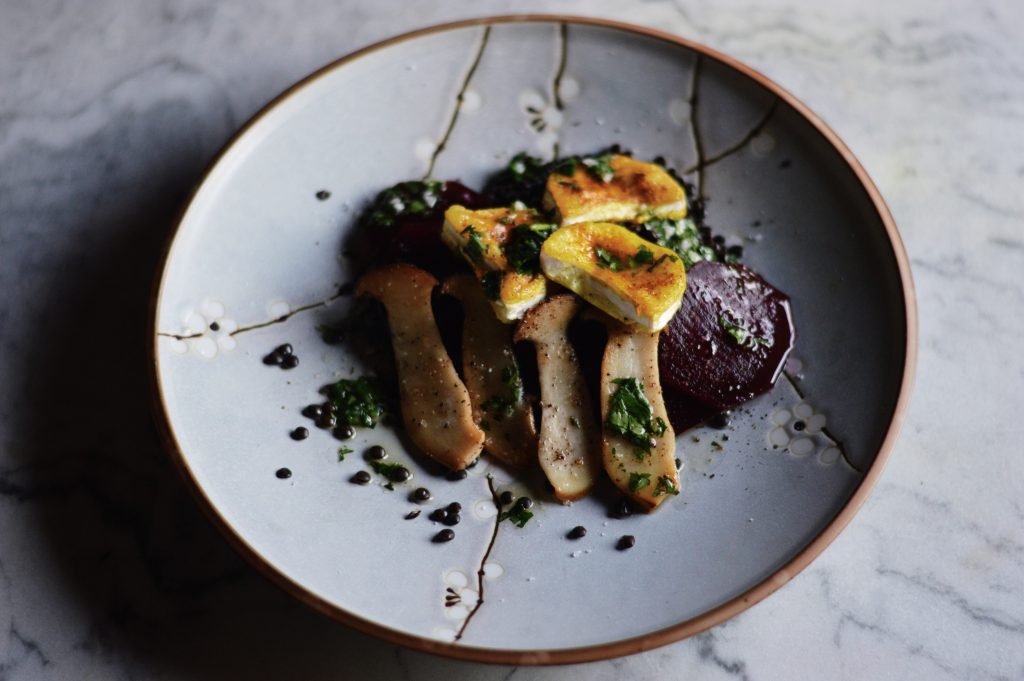 by Emily Ammann
I was born and raised in America. When people here in Switzerland meet me for the first time, they are a bit puzzled when I tell them that I am American and I most often follow up this answer by informing them that my parents are from South Korea. I have been living in Switzerland for the past 6 years and beforehand, I lived in Las Vegas and in New York City working as an event sales manager. Typically, the next question is, how did I end up in a small village in central Switzerland? Well, that's a great question and more importantly a beautiful story.
I first learned of Luzern when I went to university and met my college roommate for the first time. I was lucky enough to be paired with Alina, who would become one of my best and dearest friends. As you do when you go away to college, you bring what makes you feel at home in a new environment: your favorite pillow, family photos, your childhood stuffed animal, etc. One of the first things I remember seeing that Alina had brought from her home was a framed picture of Mt. Pilatus. I asked her where the picture was taken and she told me that it was a picture taken from her grandmother's house in Luzern and that I would surely visit one day.
Finally after 10 years, I had the opportunity to visit Luzern for the first time and I had no idea that this would change my life forever. On 28th of July in 2009, I arrived in Luzern on one of the most beautiful summer afternoons. I was greeted at the train station by Alina's father, Robi. I remember hopping onto the bus and looking out the window as we drove around the lake. I couldn't believe how beautiful it was. It really was one of the most beautiful places I had ever seen.
After a scenic fifteen minute bus ride, we finally arrived to the house that I had dreamed about visiting. As I trekked my luggage up 90 or so steps, I finally saw it. The view. That amazing view of Mt. Pilatus. Robi laughed out loud when he saw my face taking in the view and informed me that I had to see the view from the 1st floor balcony. As we stepped out onto the balcony, we were quickly greeted by Andre, who lived in this 1st floor apartment. A few minutes later, he popped open a bottle of Prosecco and served one of the most beautiful and delicious plates of food I had ever experienced. It was the first dish of Andre's I fell in love with and it didn't take long before we fell in love with each other.
I think it is only fitting that our love story began with food, which is truly a universal language that brings cultures together. Anyone who knows me or Andre knows we both have a deep passion for food and cooking. As Andre and I first got to know each other, we could not separate the discussion of food and family as we were both fortunate to grow up in close-knit families with amazing mothers who have been our inspirations. Through them, we have learned that love can be shown through cooking and it is this love that is the most important ingredient to cooking. In this way, the kitchen is a place where we are the same.
Through this passion and love, our son Louie Hunter Ammann was born in April of 2013. Louie is half-Korean and half-Swiss in his ethnicity and is both American and Swiss in his nationality, and we could not be happier and prouder. In an ever-changing world filled with a diversity of people and cultures, part of our roles as parents is to prepare our children to understand and respect different ethnic backgrounds and cultures and one of the fundamental ways we are teaching Louie is through our kitchen.
Beluga Lentil Beet Salad with King Oyster Mushrooms, Kurkuma-Spiced Goat Cheese & Cilantro-Parsley-Lemon Vinaigrette
Ingredients:
2 cups beluga lentils
3 medium sized beets, washed
4 medium sized King Oyster mushrooms
5-6 oz. goat cheese log (with rind)
Extra virgin olive oil
Coarse salt & freshly ground pepper
1/2 tsp ground Tumeric
1/2 tsp ground Cumin
For the Vinaigrette:
5 sprigs of Italian flat leaf parsley, finely chopped
5 sprigs of Cilantro, finely chopped
5 tbsp extra virgin olive oil
1/2 tsp coarse salt
1 garlic clove minced
1/2 lemon juiced
Freshly cracked pepper to taste
INSTRUCTIONS (serves 4)
1. Place beets in a medium saucepan and fill enough with water to cover by 2 inches. Bring to a boil, then reduce to simmer until fork-tender (approx. 40-45 minutes). Drain and cool. Peel the skin off and slice thinly; set aside.
2. Meanwhile, in a medium saucepan of boiling water, cook the lentils until tender but al-dente (approx. 30 minutes). Drain and cool under running water; drain well and drizzle 1/2 tbsp of extra virgin olive oil; set aside.
3. For the vinaigrette, in a small bowl, whisk 1/2 tsp coarse salt, 1 minced garlic clove, 1/2 lemon juiced, 5 tbsp extra virgin olive oil, freshly cracked pepper and chopped Italian flat leaf parsley and chopped cilantro.
4. Slice each King Oyster Mushroom into quarters length-wise and bring a medium non-stick skillet to medium-high heat. Drizzle a generous amount of extra virgin olive oil and place in the mushroom slices. Cook each side until golden brown and season each side with salt and freshly ground pepper; set aside.
5. Slice the goat cheese log into approximately 1/3 inch slices and sprinkle each side with ground tumeric and cumin. In the same medium non-stick skillet, heat a drizzle of extra virgin olive oil and place the slices of goat cheese until each side is golden brown.
6. To serve, divide lentils among flour plates, top with sliced beets, slices of warm King Oyster mushrooms, slices of the warm goat cheese and drizzle with a generous amount of vinaigrette. Garnish with a pinch of fleur de sel and freshly ground pepper; serve immediately.