Creating Flower Art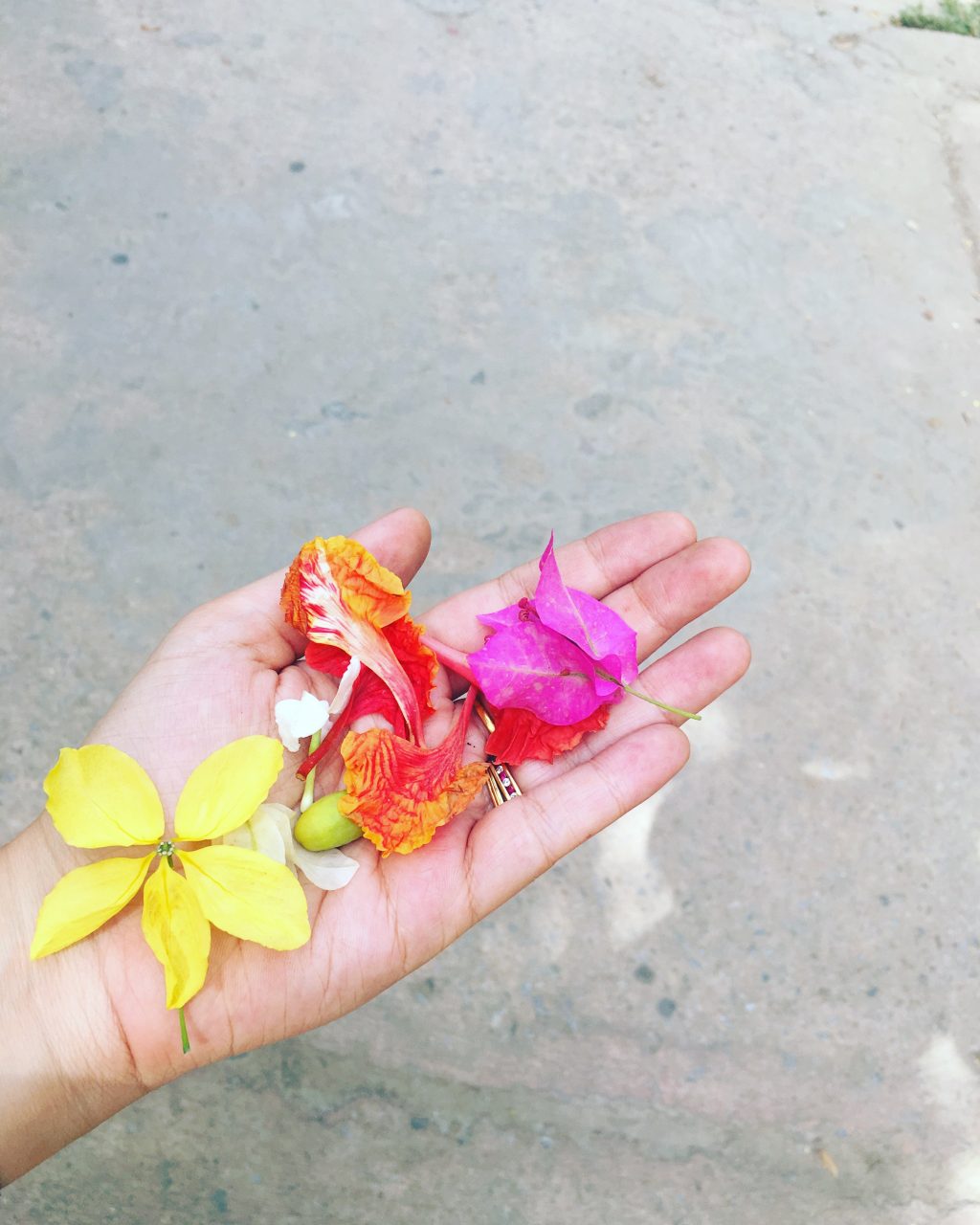 Spring came early this year in New Delhi, where I currently live. The bare tops of the silk cotton trees adjoining my apartment building lit up with fat, bold red flowers while the kachnar tree facing us was smothered with delicate mauve-speckled lilac orchids. If I didn't see them studding the trees, I would alternately find the flowers resting at my feet: a carpet of mauve and red. It had been a long winter for me in many ways and I was delighted to see these flowers.
The excitement I experience upon seeing fresh blooms is probably linked to my childhood spent in the minimalist desert landscape of Muscat, Oman. In the mornings, I would awaken to slumbering mountains marinated in apricot morning light before driving past acacia-tree dotted gravel plains, the few instances of green speckling the dun landscape. The only flowers I saw in the desert were those which bloomed intensely and briefly after the occasional rain showers; they were small and inconspicuous and I would often never see them again because they swiftly vanished once it became hot. The other flowers I saw were those flown down from the Netherlands and seen in supermarkets, packaged in plastic and their beauty, fragrance, and freshness lost by the time they made it to the freezer displays. Still, I would buy a rose from time to time, simply to feel its velvety softness, inhale what I thought was fragrance. But the flowers that I was most familiar with were ironically enough the plastic, artificial ones that graced many Oman residences. I developed a habit which I still cannot renounce: glimpsing a vase full of flowers and checking to see if they are fake or real.
Moving to countries where I became more aware of nature and her rhythm awakened my soul. I remember excitedly watching the first snowdrops push their way through the soil during my first year in Pittsburgh. I remember standing beneath a cherry blossom tree, marveling at its exquisite beauty only to find the flowers gone a few days later. I observed that beauty was ephemeral and fleeting here too, but there was such an abundance of it. I would spend my spring mornings walking through the streets, photographing large magnolia trees in magnificent bloom; apple, cherry, and dogwood blossoms floating like feathers in the air, and yellow daffodils' velvety faces gleaming in the buttery spring sunlight. I made sure I brought flowers home every week, indulging in irises, tulips, sunflowers, roses, carnations, and more.
I arrived in Delhi in October of 2014. It was my first time living in India, and it was not without its challenges — personal and otherwise. I found myself taking refuge in the foliage that surrounded me, our neighborhood having been described as the greenest in the city. I enjoyed occasional forays into flower markets during the early mornings, dazzled by the sheer profusion of flowers. The nearby gardens and parks heaved with flowers: plumeria trees with their yellow-hearted ivory blooms, bougainvilleas weighed down with a sea of vermillion, fuschia, and white flowers, flamboyant, attention-seeking hibiscus, tassel earrings of bottle-brush flowers, fat silk cotton blooms, white and mauve kachnar, the tiny jacaranda, red gulmohur, and lilac Pride of India. Needless to say, my mobile phone's camera roll was saturated with their images — and soon, my home too, as I filled up bowls and vases and pressed flowers dry between pages of books.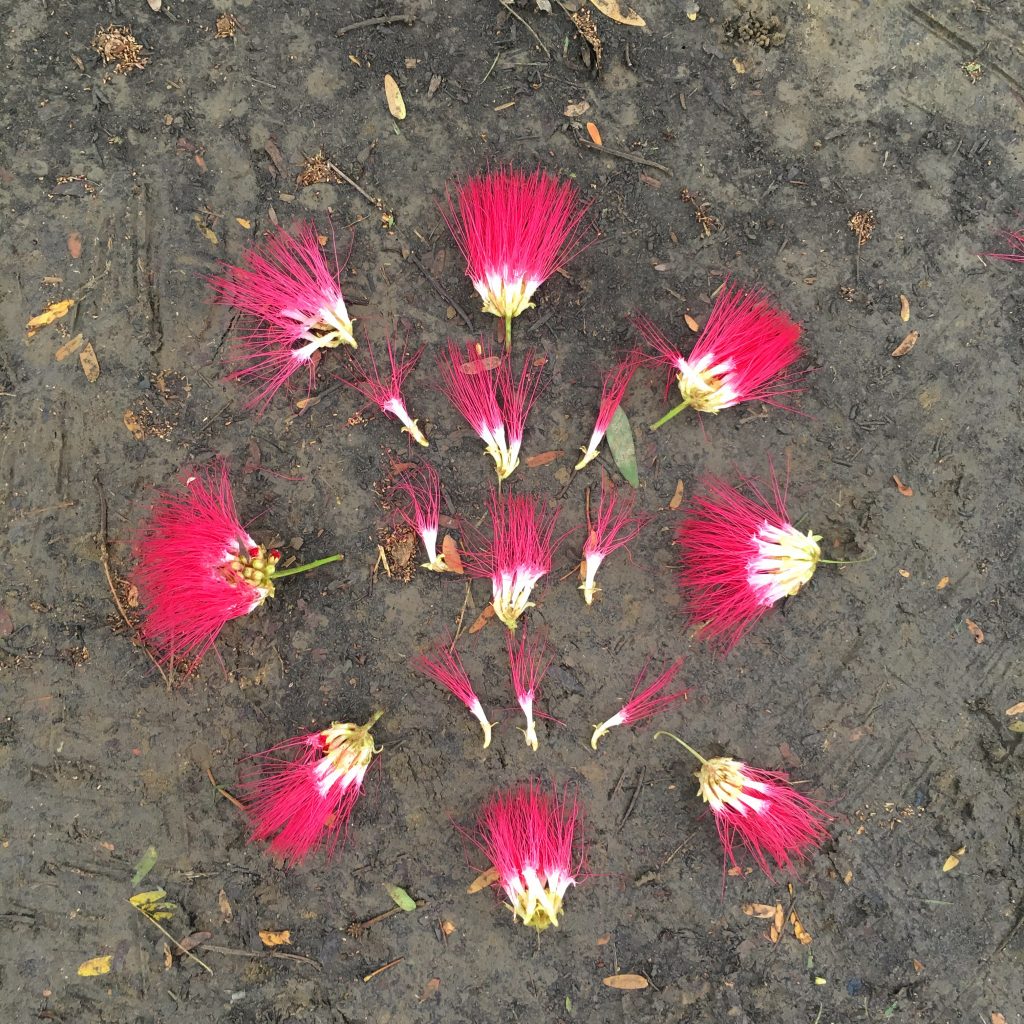 I can't remember how or when I started to make art out of these flowers, bringing nature into my art journals and transforming them into actors participating in my art pieces. Perhaps, I was curious to see how flowers would transform as they migrated from their natural surroundings to paper? They indeed assumed new personalities when they bloomed upon paper, becoming chapters of a novel, the flowers becoming poetry that read differently inside the confines of a journal as opposed to when they were lying fallen upon grass or blooming in trees. One of the first instances of my nature art was when I documented the journey of jacaranda blooms from the tree to reposing in my palm to becoming art in my sketchbook; even though such nature art lasted for not more than a day, they still nevertheless were beautiful to admire, bringing me even closer to them.
If I made flowers the subject of my art, I also began to play around them wherever I found them. I would pick up many fallen flowers and arrange them in shapes – circles, triangles or simply as if they were words in a text. What intrigued and fascinated me was what would others make of these arrangements after I had left them. Would they make something of them or not? Would they just walk past them? Or would they more closely pay attention to something which otherwise they might have dismissed as nature's detritus, something which they saw every day but hardly paid attention? Would they ever question as to why the tree choose to relinquish its flowers and leaves? Why does one flower fall and not the other? What does the fallen flower make of its destiny to wilt and eventually disappear while watching the others bloom before becoming fruit and carrying future trees within them? Those were the questions that sprung up in my mind this spring and the arrangements I made out of these flowers were my humble way of paying homage to these otherwise unnoticed flowers.
A couple of months ago, I read an article about earth/land/impermanent art: creating art from found materials at a site and it struck me that I too was doing the same albeit at a much less ambitious and complex scale and scope. I began to create more consciously, varying from simple arrangements to more complex ones. It was as if I was writing a poem and a short story; both were heavy in nuance and yet one required less and the other more. I would usually pick one particular park and arrange them either on the soil or grass or occasionally, the cement blocks surrounding the park, accentuating the visibly urban surroundings in which they thrived and grew.
Having been regularly posting these images on Instagram, my chief outlet for these creative nature/flower experiments, I discovered Dan Schildkret over there, who creates magnificent morning altars; these are awesome, intricate, complex arrangements abstracted from foraged items such as seeds, feathers, flowers, pine-cones, and leaves which pay homage to the natural spirit. They are undeniably ephemeral and yet, they exude such strength and vitality and much needed awareness of the invisible strength of nature that flows through our surroundings.
I have since then become much more conscious of both creating art from flowers when I transplant them on pages. It is akin to picking up a shell from the beach and planting it in new surroundings; yet, every time you pick up the shell, you are remembering the sea. Similarly, when I create my versions of morning altars, I know that they may disappear in a day or even less; yet, the few times I have returned to look at them, a bit has remained, a bit has disappeared. Nature is the one who creates, nature is the one who destroys; we are just the intermediaries, telling her story, if only for a brief while.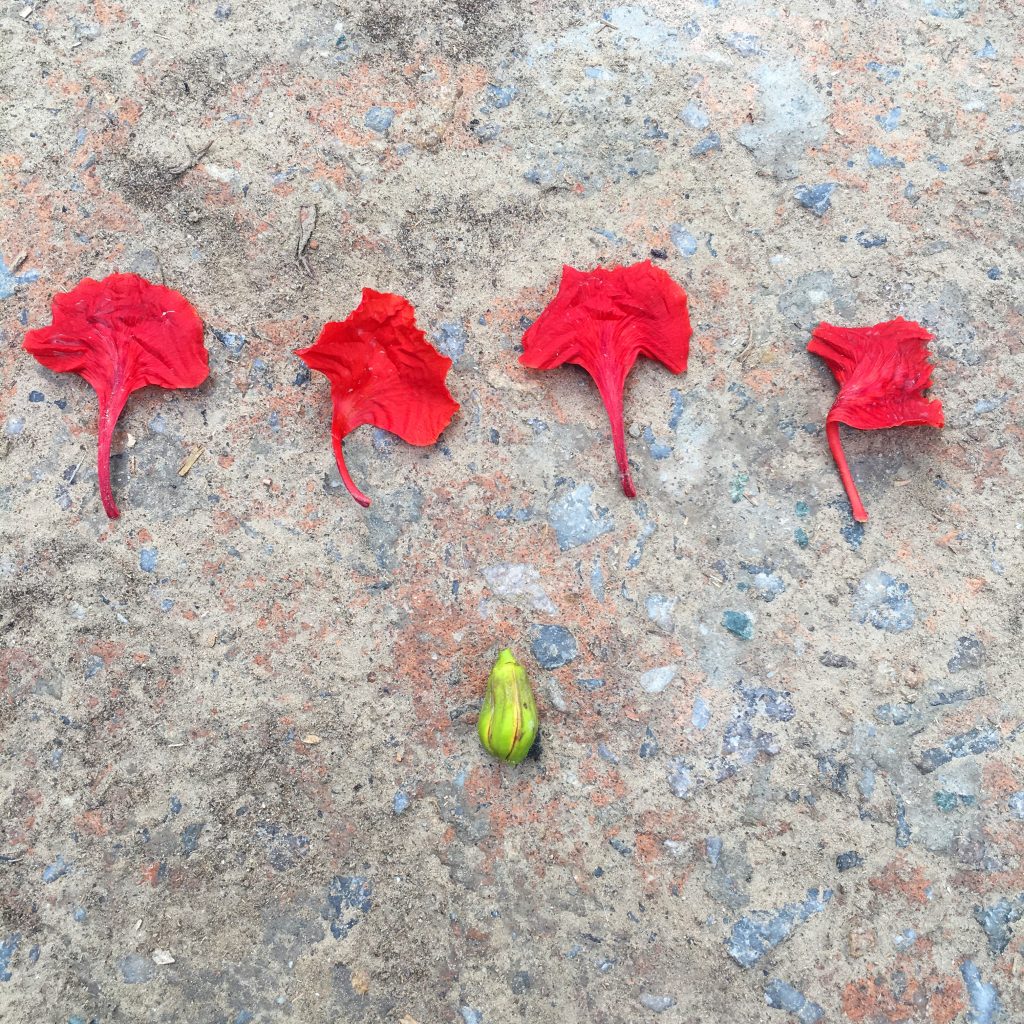 ---
Priyanka Sacheti is a writer based in New Delhi, India. Educated at Universities of Warwick and Oxford, United Kingdom, Priyanka previously lived in Sultanate of Oman and United States. She has been published in numerous publications with a special focus on art, gender, diaspora, and identity. She's author of three poetry volumes and two of her short stories have been published in international anthologies featuring Indian immigrant writing. She's currently working on a collection of short stories. An avid amateur photographer, she explores the intersection of her writing and photography at her blog, and Instagram. She tweets here.