Easy Indian Vegetable Curry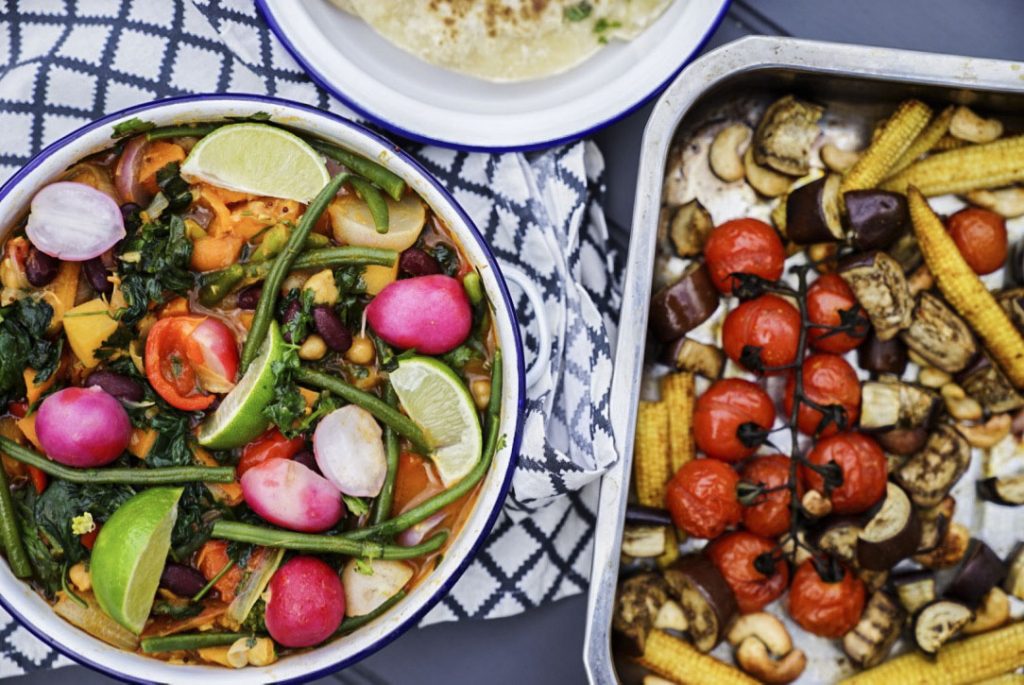 by Thahmina Haseen
Crisp leaves and brisk walks in the cold evenings are topped only by coming home to a steaming bowl of earthy greens. Pairing bright autumnal vegetables with plenty of coconut milk and spices is sure to keep you deliciously warm as the temperatures drop. Dense chickpeas, kidneys, sweet potatoes and swede soak up the intense heat from a fiery scotch bonnet while the coconut milk creates a masala with subtle hints of healing turmeric, ginger and lime. Alternatively, I have made this with brown rice for an office lunch and it keeps me going until I can get home and wrap myself in blankets! However, a bowl of this comforting mix scooped up with fresh jalebi paratha is the epitome of soul food.
Prep+cooking time = 40 mins
Serving = 10-15 portions
Ingredients
3-4 tbsp vegetable oil
1 large onion
1 tsp salt (or to taste)
1 tsp ginger and garlic, ground to a paste
pinch of poppy seeds, mustard seeds and cumin
½ tsp curry powder
½ tsp turmeric powder
2 ripe tomatoes, chopped
1 sweet potato; swede; carrots and red pepper, cut into cubes
½ can chickpeas, washed and drained
½ can kidney beans, washed and drained
½ scotch bonnet (deseed or use paprika for less heat)
200ml can of coconut milk
½ lime, juice
Handful of runner and green beans, ends removed and chopped into bite sized pieces
2 big handfuls of spinach
2 baby aubergines, cut into cubes
5-6 radish, chopped in half (optional)
Coriander, lime and roasted cashews to garnish
Instructions
Wash and prepare all the vegetables and spices.
In a large pan, heat oil over a medium- high flame. Once the oil has become runny and shiny (that's when you know it's hot enough to cook in), fry onions with salt, garlic and ginger paste along with the spices. Allow to simmer and soften for about 5 minutes.
Add chopped tomatoes and allow to soften for another 5 minutes until the oil starts to separate from the masala.
Pour in chickpeas and kidney beans as well as all the hard vegetables like sweet potato, swede, radish, baby corn and carrots. You will need a few tablespoons of water to create steam. Cover with a lid and boil over a medium flame for 10 minutes.
Add a squeeze of lime juice and stir in a little coconut milk a little at a time. Simmer for 5 minutes.
Add soft vegetables like runner beans, aubergine and red pepper and allow to simmer for 5 minutes.
Cover the top with handfuls of spinach and replace the lid.
Cook over a low flame for 5 minutes.
Garnish with coriander and roasted cashews. Serve with toasty jalebi paratha or brown rice immediately.
Vegetable curry should be eaten within 2-3 days of cooking. Freeze portions for quick dinners. Curry with coconut milk should be consumed within a month.
---
Bengali food enthusiast, writer and photographer, Thahmina Haseen has a reputation for putting a quirky twist on old favourites. Her deep passion for the bond between the creative and cultural led to Golden Tiffin, a blog dedicated to creating a space for the forgotten.