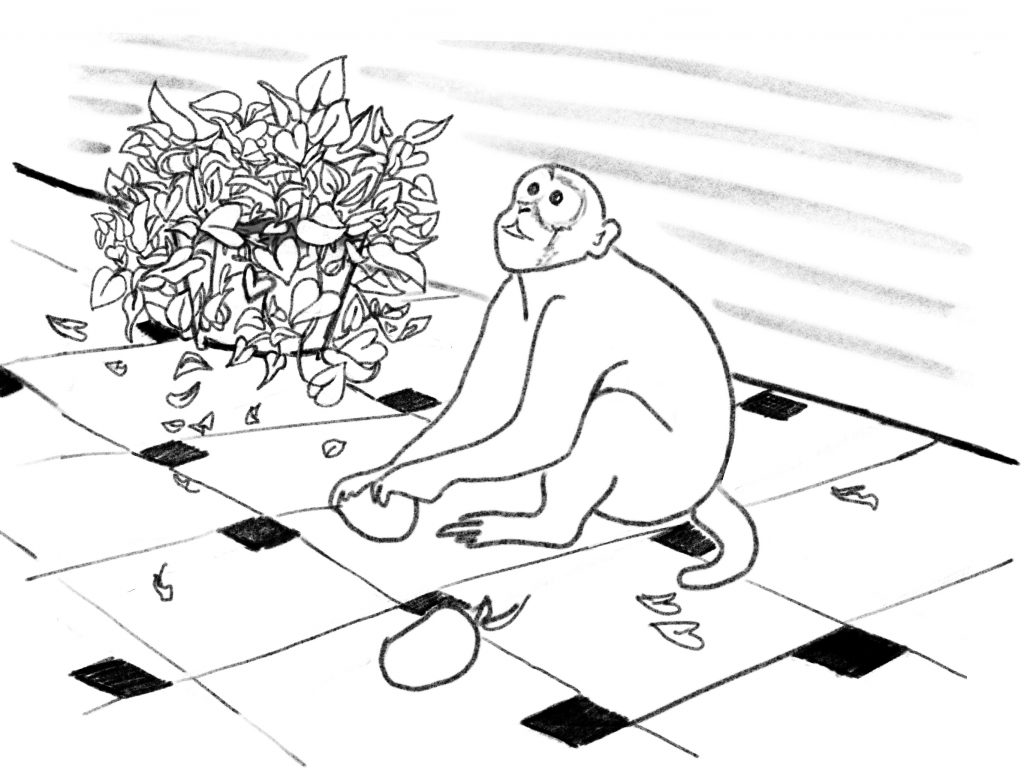 Words and illustration by Shikha Subramaniam
Jammu, 1975
My grandfather was an engineer in the Indian Army and he was posted in Jammu with my grandmother, their four daughters, and two dogs. Their neighbours had a monkey, irreverently named Bhutto – after the prime minister of Pakistan. I learned from my mother that my aunt, a curious girl at seven, once sliced open her shoulder to see what comes out of there. (Don't try this at home, kids; the answer is always blood.) She loved animals and made it a personal goal to become best friends with that monkey.
She would go over most days after school and play with him, at first gently and from a distance, but as time passed, she grew more confident, and maybe one could even call them friends. One day, she skipped over to the neighbour's home; Mrs. Banerjee warned her that Bhutto was a little cranky that afternoon. "I'll take care of that nugget," said my aunt confidently, thinking she could tame her best friend and get him to come to an understanding. She went over to where he was sitting, picked him up, and placed him on her lap. Bhutto must have been indignant and outraged, because he reached over and slapped her hard on her face. She screamed, he jumped off, and before Mrs. Banerjee could even come running out of her bedroom, my aunt ran out the door with a burning-red, monkey paw-shaped mark on her cheek, and never returned for as long as Bhutto lived.
Kashmir, 1993
A few months after they were married, my parents went on a hike to Vaishno Devi, a temple on a mountain top in Kashmir. Devotees and tourists travel long distances to get their prayers answered at this holiest of grounds, but my parents liked the adventure and had heard the view was worth the long trek upward. They were warned of roguish monkeys that blanket these hills in search of backpackers' snacks and trinkets, so my mom clutched her bag close to her chest. As they trudged on, they grew weary and my mom's bag now limped from one shoulder. In a flash, a monkey snatched her bag and crouched in front of them cheekily to see how the humans would react. My dad, fueled by a rush of adrenaline, smacked that monkey hard on his face, and the poor monkey dropped the bag and made his shamefaced getaway.
Delhi, 2006
Diwali usually meant a week of visiting friends and family with gifts, cleaning our houses, and lining balconies with candles and string lights so that the entire neighbourhood lit up like a row of fairy-light decorated cakes. The festival of lights needed even more illumination than this, thank you very much, so it all led up to the pièce de résistance – firecrackers. They came in all shapes and sizes and prices, for all ages and dispositions, to be burst in parks, on the streets, in balconies, on rooftops, anywhere you could find open air. This is back when there weren't banned or seen as being directly responsible for air pollution, noise and otherwise.