Max Vadukul: The King of Black and White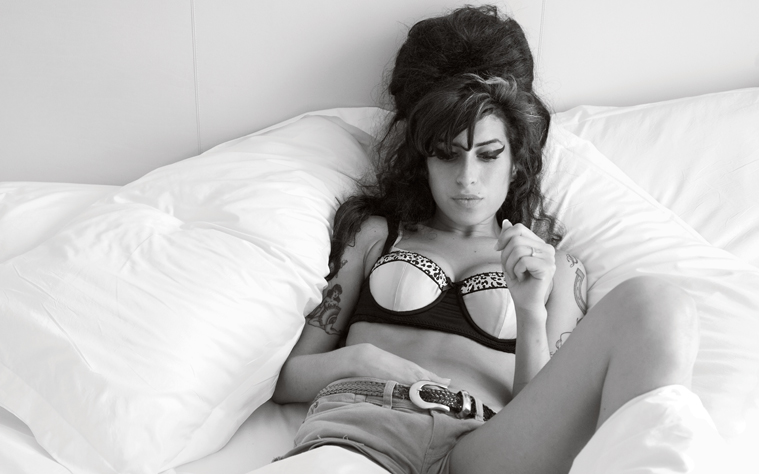 Interviewed by Rupi Sood
It's a hot, humid September day in New York and I'm sitting in what appears to be the command centre for celebrity and fashion photographer Max Vadukul. There are several workstations neatly lined up against one wall with large black and white images scattered around. I'm seated next to a seductive Amy Winehouse lying in bed with her hand slipped down her shorts. Mother Teresa is radiant in the photograph directly across from me. The similarity these two women share is that they were both photographed by Max. I can't think of anyone that's someone that hasn't been photographed by Max, except Miley Cyrus. We'll get to that later. Slightly nervous to interview one of the world's top photographers, I'm greeted warmly by a tall, slim, and casually dressed man with his beloved beagle, Nene, at his side, who seems happy to see me. "She normally barks," I'm told. Max is wearing a t-shirt and jeans, sneakers and his trademark specs, and exudes the laid back cool of that breed of New Yorkers who are truly comfortable in their own skin. He's articulate and speaks with a charming British accent carried over from his London days.
I began following Max's work after discovering a brilliant article in the New York Times T Magazine written by his journalist son, Alex Vadukul, on a father-son trip to their ancestral roots in Kolkata (Calcutta). The video that accompanied the piece left me intrigued not only by this "filthy gorgeous" city but also by the Vadukul men. It was thereafter I began noticing Max's name in the magazines that I picked up at the supermarket, at the airport, everywhere really. I would later that month go to Paris where bookshop owners in the chic Marais district knew Max on a first name basis. Cities are important characters in Max's work and he described Kolkata as a "photographer's delight" speaking about his experience there: "That city is too deep and rich to fly by it in two weeks. I would need at least a month. Just for me. Not a magazine." I ask how creative types find solace to work there amidst the noise and pollution. "That is art alone – that random chaos. It's art through chaos," Max explains. After all, he's used to creating art in the madness of a concrete jungle like New York.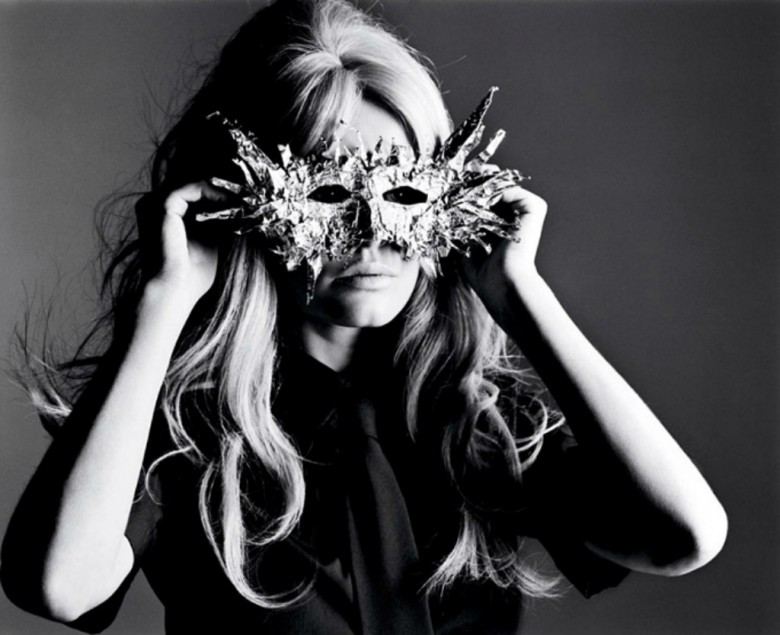 We discuss the trajectory of his career and whether he always knew he would be a photographer. He didn't, until the age of twelve. Max was born in Nairobi (Kenya) to Indian parents and spent the first nine years of his childhood there in an environment shaped by his father's passion for photography. Once the family moved to England he realized photography was naturally a great way to learn about life, and make a living. In his teenage years, he worked as an apprentice for six months doing everything from answering phones and bookkeeping, carpentry, lighting and film processing. We speak about the different world in which we live now where everyone is an Instagram photographer. "What I do is serious and there are few of us who are very serious about it," Max points out. It's obvious that he honed his skills to build the illustrious career that he has today. Our conversation shifts to the photographers he admires, past and present. "All of us are standing on somebody's shoulder," he states, naming Helmut Newton and Richard Avedon as being influential in his work. In fact, Max was the only photographer after Richard Avedon to be granted a contract with The New Yorker. Then there's Josef Koudelka, and Robert Frank, whom he considers to be one of the greatest photographers ever. It's when Max begins speaking about Frank that I see parallels between these two men: "He's one of those remarkable photographers that remains discreet but is really very influential. The power's within him. It's not about a magazine promoting him. Not about the logo that screams 'Hey look, I work for this title.'" To me, this sounds a lot like Max and I'm reminded as to why I wanted to interview him in the first place. He also mentions William Klein, who published Rome, Moscow, and Tokyo, to be significant to his early start. "Those books were commissioned by the Condé Nast editorial director just for creating art. They don't do that these days," he says. We touch upon the new wave of photographers like the Dutch duo Inez and Vinoodh, whom Max considers to be "very, very talented," and Camilla Akrans. "She has a real power, real distinctive style. I think she'll become a very big photographer," he muses.
Max has photographed some of the biggest celebrities in the world and I'm curious which ones he has enjoyed working with the most. He replies with careful consideration and mentions the three covers he did for Esquire – Brad Pitt, Matt Damon and Leonardo DiCaprio, describing the actors as "confident and relaxed" about the celebrity, but also relaxed in life. "No attitude. No ego to work with," he says speaking about them fondly. In fact, Max doesn't work with people who are a drain on his system. "Here's the frame. It's an 8 by 10 frame. If you're too big, don't enter," he says matter-of-factly. The pictures of Brad in the Esquire editorial are revealing. He's holding a camera in most of them and it's no secret that photography is a great passion of his. We've all seen those incredible grainy black and white images that he took of Angie back in 2008 for W Magazine. Max describes Brad as "someone who almost doesn't want to let the day end" so I can just imagine the creative energy that would have flowed between the two of them. He also mentions spending two weeks in Barbados with Sting and touring with Mick Jagger as great experiences. "I'm quite political, I'm highly opinionated, I have my views and I'm not for everyone," he goes on. But Max Vadukul is for a lot of people, including Esquire when they wanted special covers of three cinematic icons or Egoïste, the very expensive French cult magazine that only works with the top photographers in the world. With twenty-nine years of experience behind him and his work published in magazines like Vogue Italia, L'Uomo Vogue, French Vogue, Vogue China, Vanity Fair, Rolling Stone and i-D, it's no surprise that he's considered one of the best. "Am I going to work with the same five girls that everybody's going to work with? Will I chase that? No."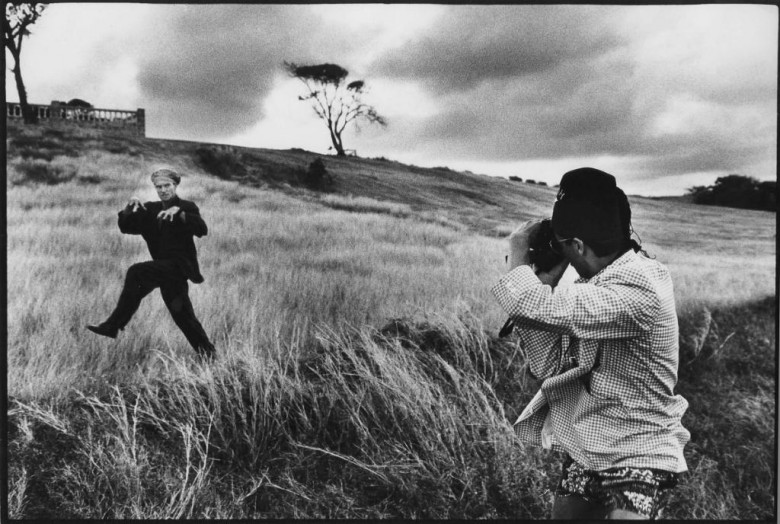 When I ask Max how he connects with his subjects to create such compelling black and white portraits, he compares journalism to photography, making references to the likes of David Frost and Oriana Fallaci, individuals who weren't afraid to ask the hard questions compared to the entertainment-quality news on the networks today. He describes how once actors are in front of his camera, they don't have a voice or script and become static, losing fifty percent of their projection. "I'm going to ask questions – I need to get something. I like context – some blood in it, something juicy, otherwise it's not worth it," he explains. I ask him whom he would like to photograph next and he mentions Miley Cyrus, "As a new face for me I think she's amazing and I think what she pulled off at the VMA was brilliant." On the other end of the spectrum, Max is a self-confessed newshound who gains inspiration from what's happening around the world by reading and watching an arrary of sources. So it's no surprise that he would also like to photograph the great whistle-blowers of the world. "Anything that terrifies the government is interesting —any government— and that keeps them in check is very good," he tells me. Max isn't one to shy away from controversial subjects. He collaborated with the dissident Chinese artist Ai Weiwei over Skype to shoot images for W Magazine, based on Ai's own experience in New York during the 1988 riots in Tompkins Square Park. "He just let me get on with it. It was a very memorable experience. All that tension was transferred in those pictures," he recalls.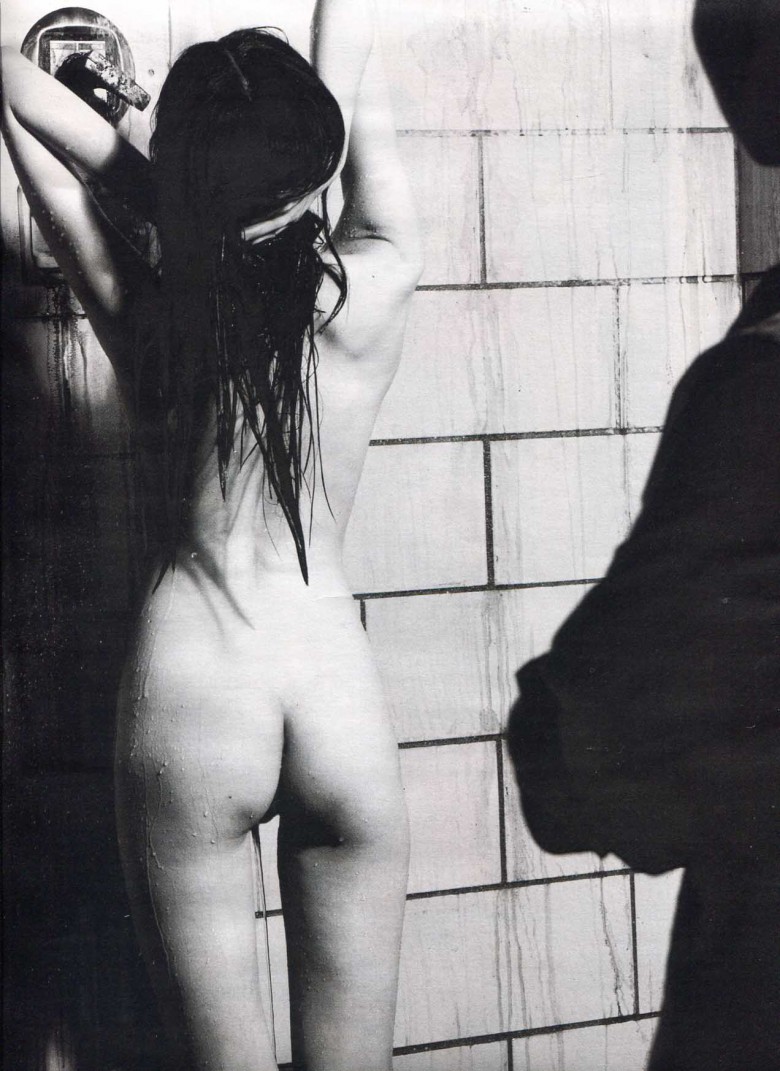 We delve into a discussion about technology and the fast pace of society today. It's rare to meet someone, especially in New York, who wants to slow things down. In a digital age where things change so quickly, he values the importance of handcrafting something special with the art of photography. Max's images make you want to get in closer and understand what his subjects are thinking during the moment in which he captures them. "We live in a world of fast dating and fast breakups; that's how fast it goes. I don't want it to go that fast," he says. He breaks it down further. "If you take a planeeverytime, you're not going to see much. If you take a train, you might see a little more. If you take a car, you might see even more. But, if you walk, you're really going to see a lot." Acutely aware of the beautiful world he has created around himself, with a constant stream of celebrities passing through his lens, he keeps the champagne and caviar lifestyle at bay by slowing everything down.