Gary's many self portraits then, are layers of how he sees the world around him: old and new, Canadian and Indian, colour and black and white. He plays with it all to create what he feels is most important to his work — honesty. Gary explained the evolution of his style and how the backgrounds to his illustrations started from old textbooks his parents had brought with them from India. The idea of a new graphic on an old page was exhilarating for him, and I heard it in his voice, "It looks like it's something that is discarded…something that someone is looking at twice, but in a different way, where it becomes something else." I laughed as Gary told me that this was an extension of him drawing on textbooks during his school years. Imagine those teachers now — looking for Taxali originals that they previously tried to erase.
Gary's experiment with new backgrounds and a commitment to the process of making art caused him to establish a rule for himself: "no pencils or other medium that can be removed." Wanting to stick to this policy of honesty, Gary described the act of simply 'being' — surrounded by pens and paints — whereby he lets his hands move and cover the surfaces around him without any self-editing. "The result is always a surprise," he explained, "just as much to me as to anyone else… it's very exposing." So, what really inspires Gary's illustrations that contain thought-provoking messages and punchy words? Gary credits America's Depression Era, and in particular, cartoonists like the Fleischer Brothers who brought characters like Betty Boop and Popeye to the screen.
Curious about how Gary creates commissioned pieces, I asked him if he is he given free reign or certain parameters to work within. He explained that he is hired for his distinctive style. Whether he's creating pocket squares for menswear retailer Harry Rosen, designing coins for the Canadian Mint, advising Canada Post on their stamps, creating book or rock album covers (one of which earned him a Grammy nomination), or doing illustrative work for clients like Esquire, Entertainment Weekly, Playboy, Rolling Stone, Fast Company and numerous others, Gary, like a true artist, doesn't overthink it.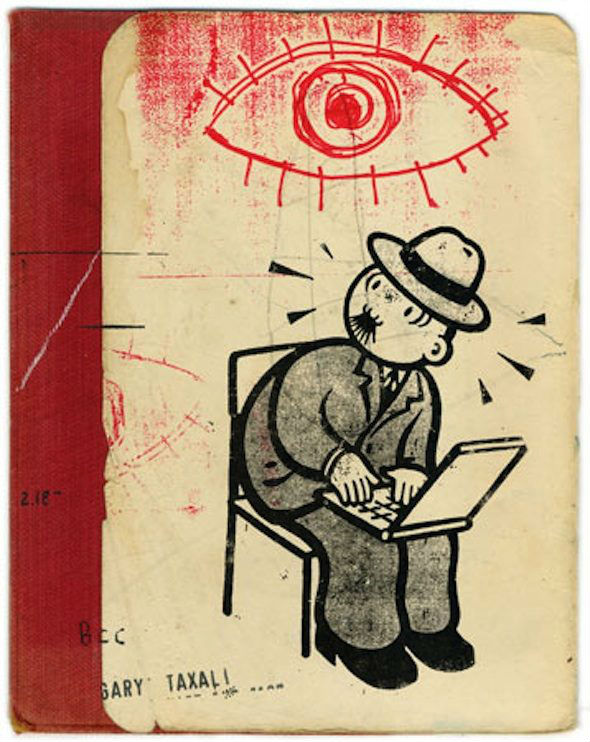 Gary's surrender to his creativity is evident: the mixed elements within his pop-art images, hand written messages and the use of repurposed paper. One of my favourite Taxali pieces, 'E-mail Perils' for Fortune Magazine, demonstrates all of that with its black and red sketch on a worn background and a stark message. The eye in the sky (which could be interpreted as today's 'Cloud'), is something that affects us all as we go about our daily lives with the use of technology. The image is simple, yet provocative. Does anything we share online ever go unnoticed?
As I admired Gary's extensive portfolio, I was intrigued by a change in his work. His graphics move from flat to round, and we discussed his blooming relationship with 3D drawings. Gary nonchalantly described it as a result of a "set of circumstances." These circumstances involved Raymond Choy of Toy2R in Hong Kong approaching Gary for an original painting for one of Choy's famous Qee (pronounced 'key') mini figure toys that would be shown at Shephard Fairey's Subliminal Projects Studio in Los Angeles. Gary admits he did not initially realize "what a big deal the show was" but only after brushing shoulders with those in attendance. "I became talked about suddenly as somebody," he recalls. The evolution was very natural as more toys were produced and required more drawings.
Gary's humility, creativity and hard work are a testament to the international recognition and success he has achieved thus far. "I don't think a day goes by where I don't think 'I get to draw pictures for a living!' Day after day, picture after picture, I think, 'This is my job,' and that never goes away."
When he's not travelling between exhibits or working at his studio, Gary can be found at home in Toronto, enjoying films on his big screen projector, playing badminton, or listening to old school rock and roll. By the end of our interview, all of the nervous energy I felt earlier had vanished and I knew that I'd made a new friend. The flow of our conversation reflected how Gary Taxali approaches everything in life — with kindness, openness, and a willingness to create new things. That's pure art.
All images © Gary Taxali