Raveena Aurora Moves to Her Own Beat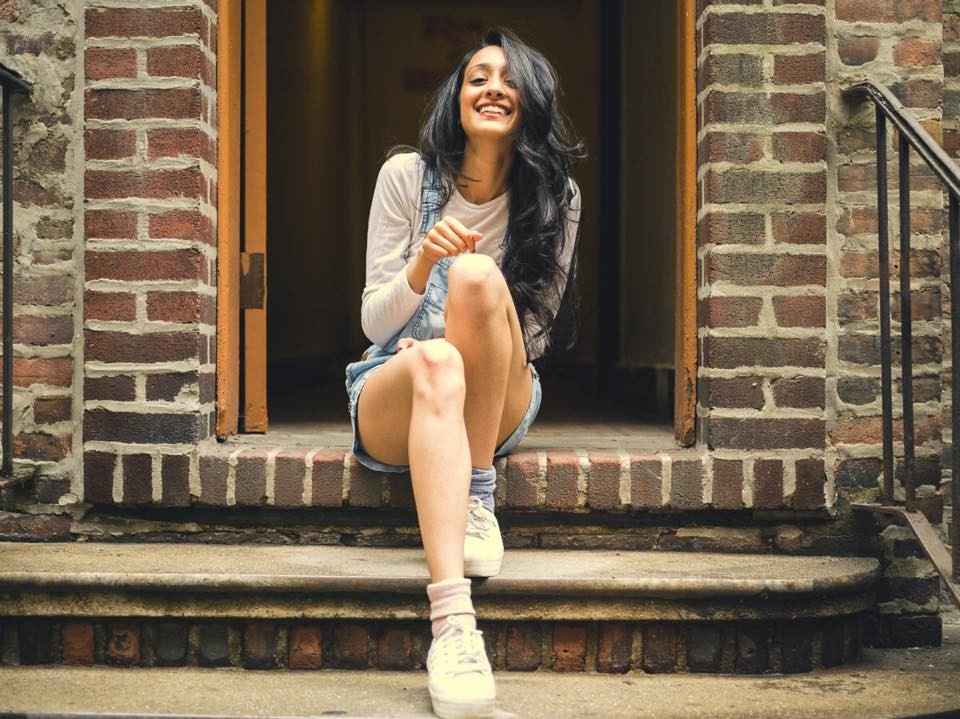 Over a rhythmic pattern of softly plucked notes on the guitar, with a few touches of keyboard, comes an alluring voice that seems to capture every mood. The sound feels organic, as if it flows without intention or effort, and yet peaks and falls in all the right places in a way that makes you look for the 'repeat' button. The vocal pitches belong to songstress Raveena Aurora, a budding musician based in New York. Raised in a Sikh-American family in Connecticut, her love for her art drew her to the big city. Aurora attributes her unique sound to come from a complex arrangement of influences: mainstream pop artists for their ability to capture audiences, and her ethnic background promoting a love of song and ritual. Aurora's first album Where We Wander, released two years ago, had music lovers enraptured and her spell has yet to be broken. In her new release "1991", the signature sweet vocals don't disappoint either. When she's not making music, Aurora can be found studying social issues, in a yoga pose, or in the kitchen, until her creative pulses pull her into song again.
How does living in New York influence your creativity?
I live in the Lower East Side. I find that New York provides a key space for my creativity. I like to be fairly isolated and you can do that very easily in New York —just hide out, and cook, and play music in your tiny apartment for a couple of days and not be bothered. But by location, you also have immediate access to really talented and generally well-connected collaborators, which is so important for when you're finally ready to get out of your space. The winter is the worst though, because everyone isolates themselves in their apartment and you don't see anybody for three months, except for the few people you cling onto.
You have a distinct voice, and since discovering you, we've had some of your tracks like "Up and Down", on repeat. How would you describe your sound, and has it changed from when you started out?
I'm still finding my sound, and it has been changing by the seasons. It's definitely always rooted in pop though. I started out making folk-pop, then weird sad-girl club music under a different alias, and now I'm exploring different shades of R & B, and soul and jazz mixed with electronic. I center my music around introspective lyrics, catchy melodies, and my voice. Right now I've been listening to a lot of Drake, Sade, Jai Paul, D'Angelo and Amy Winehouse and I think tones of all of them are seeping into my music. My sound might change and be influenced by my collaborators and different points of inspiration, but I think at the end of the day, I just want to make music that brings joy to people, and that is timeless.
Currently your music doesn't seem to have any Indian influence or fusion element to it. Is this something you're interested in exploring down the road? If so, is there anyone in that space that you would want to collaborate with?
Of course. If it feels right for the song, I'd be really down. I've always thought it would be cool to do a hip-hop collaboration, and heavily sample an Indian song, a bit like what M.I.A. does. If I did integrate those sounds, I would want to approach the song from a really modern perspective and set out to make something genre-bending and relevant to pop music culture. My dream collaboration would be a track with Kanye produced by A.R Rahman and Kanye. I feel like those collaborators coming together would be inherently political while also really relevant to pop culture; a creative statement that would be really important for South Asians in American media.
What led you to embark upon a career in the arts? 

Being an artist is how I function and understand the world. I could not really 
imagine doing anything else and being satisfied.
Do you come from a family of musicians? And were you always creative as a child?
I don't come from a family of musicians, but I come from a family of talented bathroom singers. My favorite memories from my childhood involve that warm feeling when my friend's parents were over, and they sat in the living room taking turns singing old Indian songs. I was always creative. Singing and writing were my escape, and the way I found a sense of safety and meaning in the world, especially when I was experiencing sad or hard moments. It's not always easy being the first-born in America, or a first-generation child of parents who had survived and come up from a lot, compared to my classmates whose parents have been here for generations and are more settled. There can be a lot of pressure and confusion from that environment that you have to navigate on your own.
How does your Sikh-American background come into play as an artist and what impact do you hope to make in the South Asian community? 

I think my Sikh-American background gave me a sense of immediate belonging in a big sea of different kinds of people. Culture is really important; it allows you to connect to the most important joys of life (food, music, dance, tradition) and makes you feel more part of a community and part of a greater cause, rather than another individual pinned up against another individual fighting for resources and survival. It serves to soften the edges of some of the harsh realities of life and ground you. I'm appreciative that I have such a rich culture that I will always belong to. As for the South Asian community, I would hope to increase visibility for this minority in the American media and in turn help change some of the stereotypes that South Asians are subject to in this country. I would also hope to be a role model for young women of color and show women that you can find a voice, be a person of power in the world, and really live out your dreams, even if the world or your environment isn't telling you that is possible.
Your family seems to be quite supportive of your career choice. Moving away from Connecticut and living in New York as an artist can't be easy. Are you surrounded by a creative community of friends and how do you deal with the competitiveness of the urban jungle?
I'm so lucky to have a family that supports me in my dreams and believes in them too. It isn't easy living here, but it's worth it. I deal with the pressure of my field by surrounding myself with a few really good people who believe in me, but are also critical and push me to be better. I also deal with it by always focusing on my bigger goals, but not letting them overwhelm me.
Who are the artists that you look up to? Do you have a mentor in the music industry?
I look up to different artists for different reasons and when it comes to female pop stars, there are certain qualities of each stars that I admire and would wish I could emulate. Sade for her elegance, timeless aesthetic and sense of self- preservation and aura of mystery in the media. Taylor Swift for her infectious pop appeal and solid song structures. Rihanna for her bad bitch persona and style. Amy Winehouse for her soulful melodies, jazz feel, and raw, hip-hop influenced lyricism. There are so many more and I could go on. These women are timeless, powerful, and genuinely fantastic and I'm so in awe of all of them.
You are 20 years old. Are you studying or working in addition to pursuing a career in music?
I study recorded music at NYU Tisch.
Outside of music, what are the passions that drive you?
Listening and writing music is my joy and my escape and I am also obsessed with learning about the ins and outs of the music industry. So that takes up a lot of my time. I am surrounded by people in the music industry: I go to school to study the music business and music production, and I have my headphones glued to my head 24/7. It definitely consumes a lot of my life!
 Beyond that, I think I'm just a really sensual person and get really passionate about anything that allows me to feel creative and emotionally engaged. I love cooking — it's the most sensual, most human, and relaxing activity for me. I really take my time with it and enjoy cooking for my loved ones. I practice yoga weekly to find a sense of center. 
I've taken a lot of classes regarding racism, gender issues, class wars, etc. and I hope to keep that part of my mind engaged because learning about those issues grounds you and reminds you of all the shit happening in the world. You can get so easily blinded to it in the entertainment industry and the weird bubble of New York.
How would you describe your creative process of song-writing?
I get sent a couple beats every week or two from different producers I work with, and I take a couple hours to a couple weeks to perfect a top line (melody and lyrics) to the beat. There are many times that I write an entire song in one 15 minute sitting while feeling really emotionally charged and in need of a creative release. But I have also made it a habit that every time I think of a phrase, couplet or lyric, I immediately jot it down in my iPhone notes. Depending on how emotional I am, I will write anywhere from 10 – 30 word vomits/hook ideas/small poems in a week, which I keep compiling, and whenever I am sitting down to write a new song I will then have an entire booklet of ideas to look back on for inspiration. Whenever I hear a new instrumental, I also try and associate it with a scene or scenario and then paint a picture of those visuals through my lyrics. The way a melody sings and rhythmically aligns with the beat is also really important to me when I am writing a new song.
As a relative newcomer to the music industry, what are your thoughts on the increase of streaming services such as SoundCloud and Spotify?
On a fundamental level, I think that the ability for a smaller artist, who is not backed by one of the major labels, to release their music on a major platform is awesome. It gives the DIY artist so much theoretical power and access to listeners from across the world that they never could have had without the internet. Nevertheless, I still think that for an artist at any level, its very much a numbers game and a popularity contest, and the big labels are still winning. Major labels are shareholders of streaming services and pay for their artists to receive more visibility on these services, automatically putting the DIY artist at a disadvantage. 
I also think that streaming services allow the consumer to place less value on music as a product. As musicians, we toil for hours writing songs and the teams around us spend triple the amount of time trying to advertise that music for us. As consumers, we listen and cherish songs and potentially will play them 256 times over if they hit the right nerves. Music offers us hope. It comforts us. It uplifts our mood in our most bland moments (the morning commute to school or work) and enhances the most sensual and important of human activities. Music should definitely be worth more than the pennies musicians are paid through streaming websites.
Describe your typical day.
My days of the week look pretty different because I go to school or the library for a couple hours every day, and then the rest of the time I am free to do music stuff. This includes studio sessions a couple of times a week, meeting up with A&R/publishers/managers, photo shoots or video shoots every now and then. I also spend a lot of time crying about feelings, boys, injustices to women, minorities, and the poor, and world peace, and then putting that into song.
Where do you see yourself in 5 to 10 years?
Hopefully happier and more settled down in terms of friendships, financial status, and home, and doing what I love, which is singing and writing.
Story by Bethany Trepanier // Photo courtesy Raveena Aurora