The duo purchased the Jardin Majorelle in 1980 and brought it back to its splendor with new plant species, refined irrigation systems and an extensive team of gardeners. Yves Saint Laurent lived and worked here, as Majorelle had done, which inspired many of his fashion collections. The Jardin Majorelle is where the designer's ashes were scattered when he died in 2008. His longtime partner, Pierre Bergé, then donated the garden to their foundation in Paris and in 2010, the street outside was renamed as Rue Yves Saint Laurent in honor of the designer. Within the garden, there exists a memorial consisting of a Roman column from Saint Laurent's Tangier home which has been placed on a pedestal with a plaque bearing his name.
Jacques Majorelle's original studio has been converted to a small Berber museum that houses artifacts from various indigenous tribes around Morocco. Here, an assortment of jewellery, weapons, leather goods, basketwork and textiles are on display reflecting the richness of the Berber culture about which Pierre Bergé noted:
"The Berbers have always been rightly proud of their culture. They have not ceased to reclaim their identity in spite of the vicissitudes they have faced. In Marrakech, in Berber country, in the Jardin Majorelle created by an artist who painted so many scenes of Berber men and women, the idea of this museum occurred to us quite naturally."
There is also a museum bookshop with an extensive selection of works about Morocco, Berber art and of course, Yves Saint Laurent. Pierre Bergé's book which contains photographs and illustrations from their life in Morocco, Yves Saint Laurent: Une Passion Marocaine, also sits on the shelves here. In addition, a small gallery is dedicated to images from Saint Laurent's famous 'LOVE' posters which he used to send as greeting cards to friends and clients.
Under the direction of legendary interior designer Bill Willis, a boutique and courtyard cafe were installed into the design of the garden. The boutique, which opened at the Jardin Majorelle in 2001, is where beautiful items handcrafted by Moroccan artisans can be purchased. The high quality artisanal products and objects serve as an ode to the spirit of Saint Laurent's designs: embroidered jackets, tunics, silk slippers, cushions, pouches, passementerie belts and jewellery. There is also the fragrance 'Jardin Majorelle' containing notes of orange blossom, cedar and spices to instantly evoke scents of springtime in Marrakech. The chic Café Bousafsaf, named after Jacques Majorelle's first house, serves tea and sandwiches.
Jardin Majorelle is a serene escape from the dusty city of Marrakech and its surrounding desert landscape. Here, one can wander or sit and contemplate the architecture and vegetation that has composed this marvel which serves as a reminder as to what hard work and passion can accomplish, as evident in the artistically rich lives led by visionaries such as Jacques Majorelle and Yves Saint Laurent.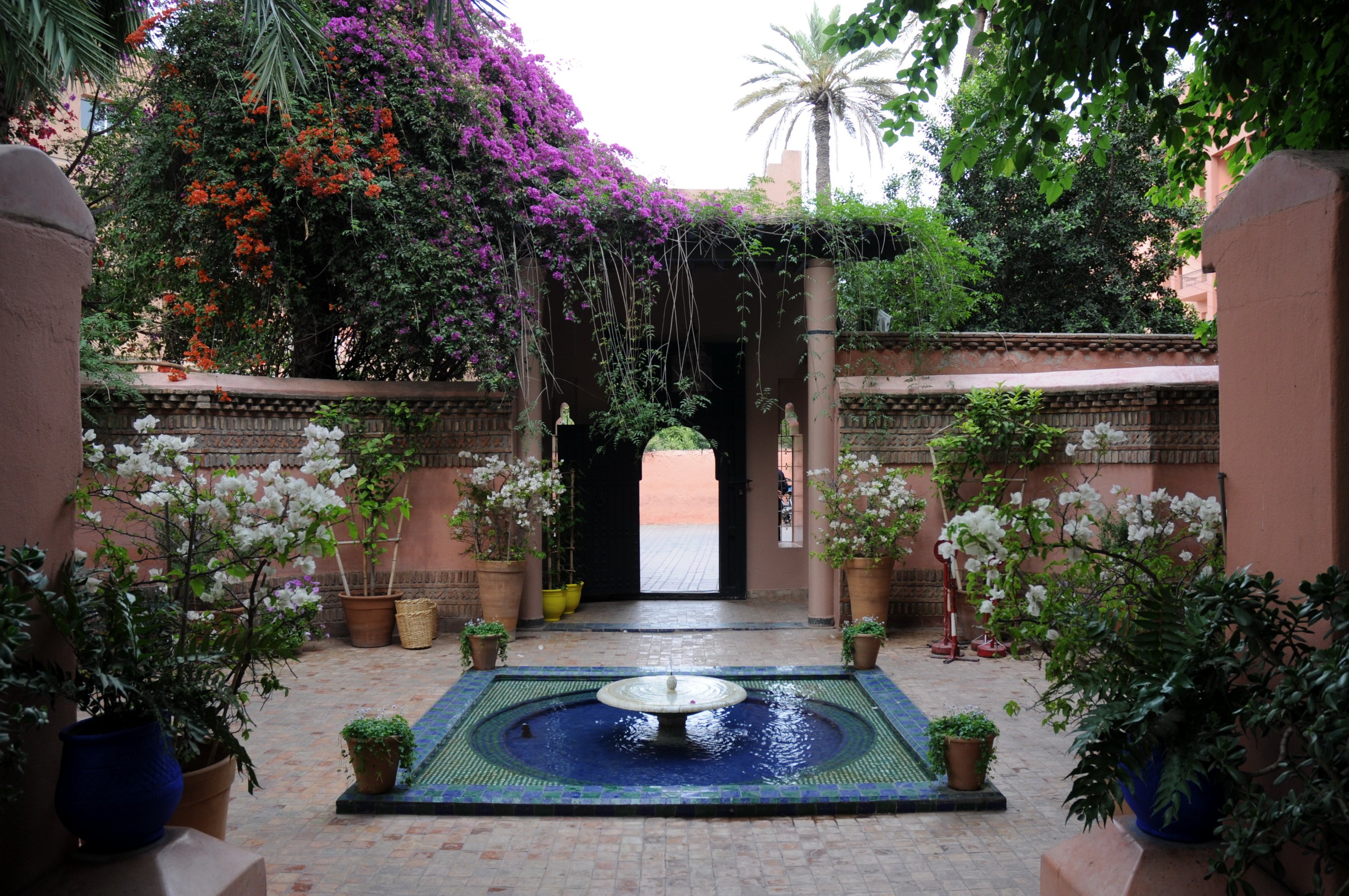 Story by Rupi Sood