J'AIPUR Journal: Please introduce our readers to your series of works that are part of our online exhibit. How did these works come about?
Meera Agarwal: Created as a response to the Covid pandemic in 2020, my Kolam/Connections series of paintings is based on the traditional South Indian art form called Kolam. These are math-based geometric line compositions drawn with rice flour around a grid of dots. Kolams, a daily pre-dawn ritual of women in South India, are drawn at the threshold of homes, places of worship or businesses. There are various theories about the significance of Kolams – a welcoming auspicious feature, an ode to Mother Earth, to ward off evil or a symbolic "charity begins at home" gesture as nearby ants, bugs and birds feed on the rice flour. To me, even as we physically distance, it's a reminder we are connected and that we bond in infinite ways by shared experiences of joy, pain and healing. Through these works, I share my culture and the symbolization that we are all connected/braided/woven together and are part of one race, the human race.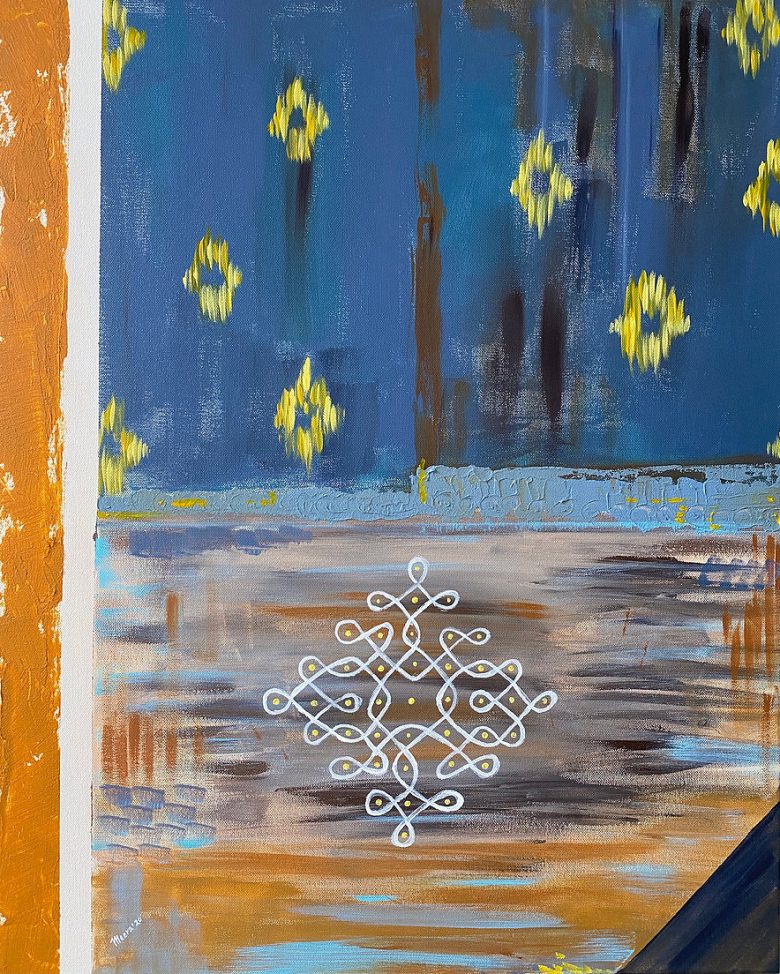 Common Threads, 2020 (mixed media on canvas)
Kolams were my earliest introduction to art and I was an avid participant in Kolam and Rangoli competitions throughout elementary school in India. I resumed practicing and studying this art form more closely in 2019 and gave them centerstage during the Covid lockdown last year. I recently came across books and research papers on the mathematical roots of Kolams and how they are used in computational anthropology, algorithms and more!
JJ: What is your background and how did you become an artist?
Meera: I was born and raised in Chennai (India). I studied and worked in many cities and countries before finally calling the U.S. home twenty plus years ago. I am pursuing a second career as an artist post a corporate career, and I don't have any formal training in the arts. Growing up in India, I was exposed to a limited amount of curated art but there was never a dearth of vibrant art, architecture, color and history in everyday life. Even as I switched gears/countries my art practice was a constant source of inspiration and comfort. More recently, when my family moved to New York from California, I decided to put my public relations career on hold and be a full time mother and artist. I was amazed by the resources and opportunities the Northeast area offered emerging artists and so I began exploring painting (and teaching art) as a working creative. It's been seven years since I first started exhibiting and selling my art. I am so grateful for my patrons and supporters, as well as for all the wins and disappointments. Everyday is a lesson!
JJ: Describe your creative process.
Meera: Early on in my practice, I worked solely on representational art and I would sketch a lot and organize before starting a painting. Decades of meditation and reiki practice has helped me tap more into my intuitive self so I rely on ideas constantly ruminating in my mind. More recently, I have been creating abstract art and that's allowed me to go with the flow. Sometimes I paint samples or just play around with color mixing. Ideas also come to me as I prepare to teach art. I am always open to ideas taking shape one way initially and going in an entirely new direction in the end. Overall, I trust my intuition and instinct clichéd as it sounds. 
And I always have music on when I paint as it energizes me.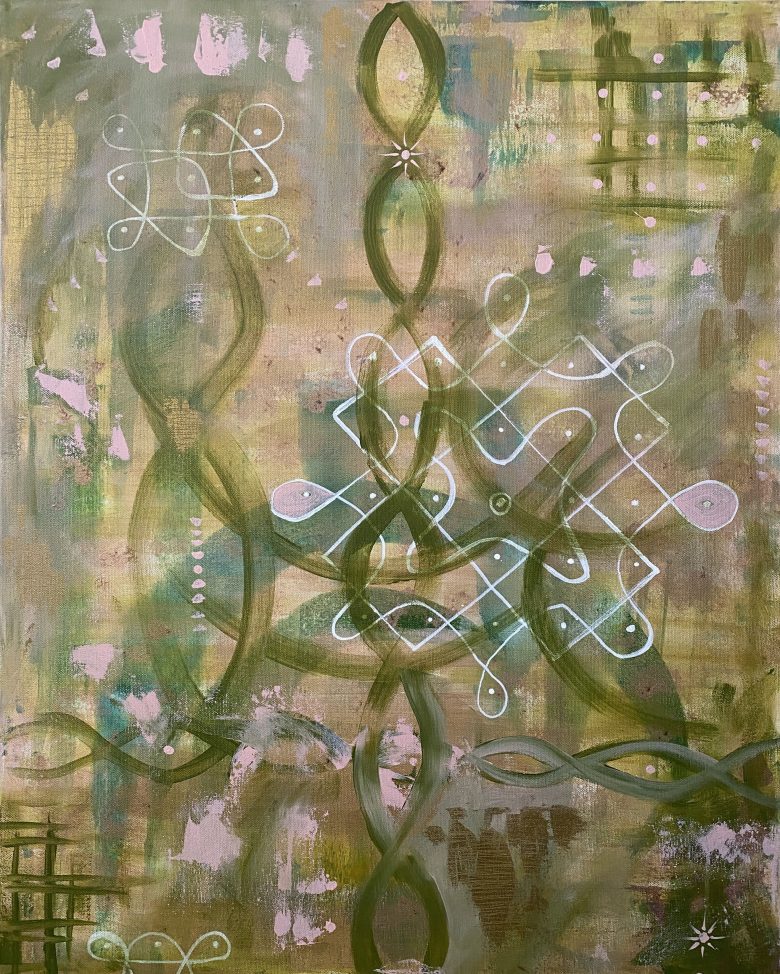 Braided, 2020 (acrylic on canvas)
JJ: Who are some women artists (living or dead) that you admire?
Meera: Frida Kahlo and Georgia O'Keefe are two women artists whose work I was exposed to in my early years in the U.S. Kahlo's art intrigued me and helped me contemplate and stretch my thinking, That is when I began appreciating surrealism. O'Keefe's art had a more familiar feel and her flower close ups never cease to amaze me. They are magical! There's always a new meaning I take away every time I examine them closely. More recently, I have been following and studying contemporary artist, art educator, writer and activist Judy Chicago, someone whom I greatly admire and am inspired by. For five-decades (and counting) Chicago's work has embodied and addressed so many social issues. Her commitment to pushing on women's rights, feminist art education, climate change (to name a few) is unparalleled.
JJ: Name an art exhibition that had a lasting impression upon you.
Meera: The 2018 Hilma af Klint: Paintings for the Future exhibition at the Guggenheim was stunning and is now forever etched in my heart and mind. Klint was clearly way ahead of her time and her spiritual, other worldly works are mesmerizing in a way that they never leave you. It's fascinating that she wanted her temple paintings to be seen only twenty years after her death.
JJ: What inspires you to create?
Meera: People—especially their stories—inspire me the most. Reading books gives me a window into other worlds and helps add other dimensions to my work. I'm equally inspired by the wonders of nature, memories of my native, vibrant India and everyday marvels like colors, textures and light effects that we experience.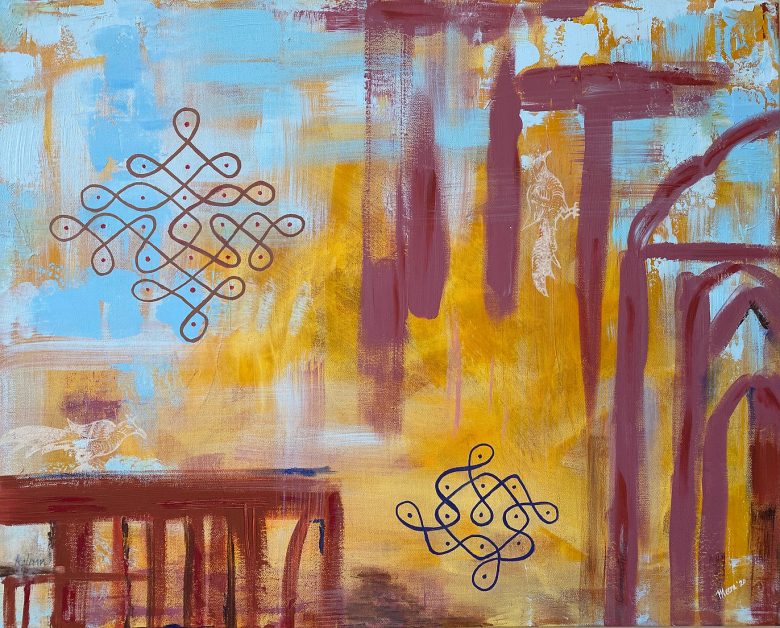 Threshold, 2020 (acrylic on canvas)
JJ: Name a favourite artwork of yours. 
Meera: Vincent van Gogh's "The Harvest" (1888). When I first saw this painting of the French countryside, the color palette and brush strokes had a familiar connection and nostalgia to the landscapes of rustic India I saw during my train travels as a child which remains a favourite memory. Similarly, I aim to evoke an emotion, a memory, strike a personal chord or intrigue with my art.
JJ: What are some tools, techniques and materials that you employ to create your work?
Meera: In addition to traditional paints, brushes and palette knives, I use everyday kitchen tools, sponges, cellophane, paint pens, charcoal depending upon what I am working on. I love textural effects so I use fabrics, molding pastes, found objects and such. In my Kolam/Connections series showcased in this exhibit, I have used ikat brush strokes, molding paste textures and block-printing to add visual interest and tell specific stories about the kolams themselves.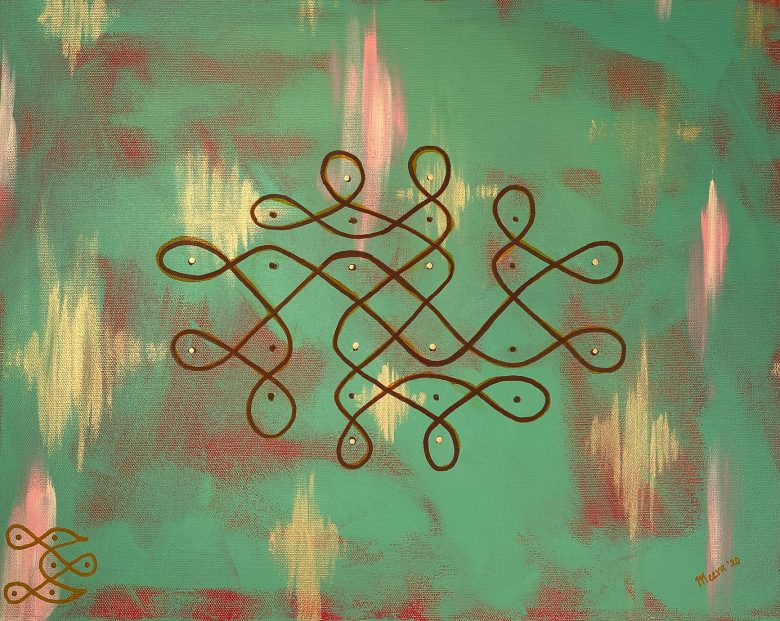 Ode to Mother Earth, 2020 (acrylic on canvas)
JJ: How would you like to see your artistic practice/career evolve over the next few years?
Meera: I would like to continue exploring all forms and styles of art, steadily challenging myself, and reach wider audiences for my art and narratives by including my India-inspired art through which I share my culture and heritage. I just completed my first public art project in Rye, New York. As part of the Rye Arts Center and Rye Rotary's project called Rye's Above, I transformed a metal butterfly sculpture into a work of art to be installed in June and then be auctioned off later this fall to support educational programs and scholarships in the area. It was a phenomenal experience and I hope to participate in more public art projects. I am currently researching art fairs and gallery representations and hope to test those waters soon as well.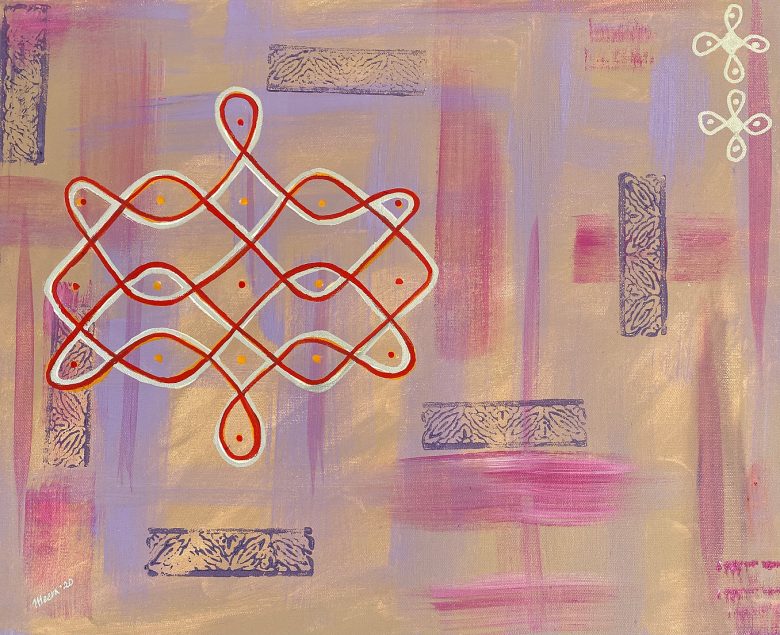 Welcome, 2020 (acrylic on canvas)
JJ: What advice do you have for someone who wants to be an artist?
Meera: In the words of President Theodore Roosevelt made famous by Brené Brown – dare greatly. Try everything, go beyond your comfort zone often, visit shows and educate yourself before you apply to be in them. I personally do not believe in having a signature style of work because it would be a shame to be boxed into one type of creating. This approach has worked well for me so far.
JJ: What do you like to do when you are not making art?
Meera: If I'm not contributing to the various non-profits I volunteer with, I love listening to music and singing along, trying to learn lyrics to my favorite tunes. I also love reading, cooking, gardening and creating flower/foliage arrangements.
JJ: How do you navigate the art world in terms of finding opportunities and building a collector base?
Meera: I am part of many art associations and track artist opportunities and calls. Using these, I plan and set art show goals for the year. I am grateful and lucky to have the support and encouragement of so many local families and friends as my patrons who also kindly spread the word. Social media has expanded my customer base to many other parts of the U.S. and globally.
JJ: What are some challenges you have faced as an artist?
Meera: While a lot of wonderful people and co-mompreneurs have been uber encouraging and supportive (especially in my own town during the pandemic) and there are so many opportunities in the Northeast for emerging artists like myself, just once in a while I will come across art snobs who don't judge me by my art or my hard work chipping away at prominent juried shows but purely by the fact that I am not art educated.
JJ: How do you think the art world can better support women artists?
Meera: Museums and art institutions need to commit to hosting solo exhibits of women artists equally, place equal monetary value for their work and have more women leadership. In a nutshell, I'd love to see a time (like in all other walks of life) when artists are judged by their work and not gender.
Contact us if you are interested in more information about the artist and purchasing her works. We encourage you to support women artists to bring greater diversity into the art world!