J'AIPUR Journal: What is your background and how did you become an artist?
Sarbani Ghosh: I've been painting and drawing all my life — always making or creating something in my free time. The choice to be an artist was a natural one. When I went to undergrad however, I ended up choosing a more 'practical' degree in Graphic Design. I was happy to learn the skills of course, but ultimately I still wanted to be an artist. After undergrad, I moved to New York and received my MFA in Painting and Drawing from Pratt Institute in Brooklyn.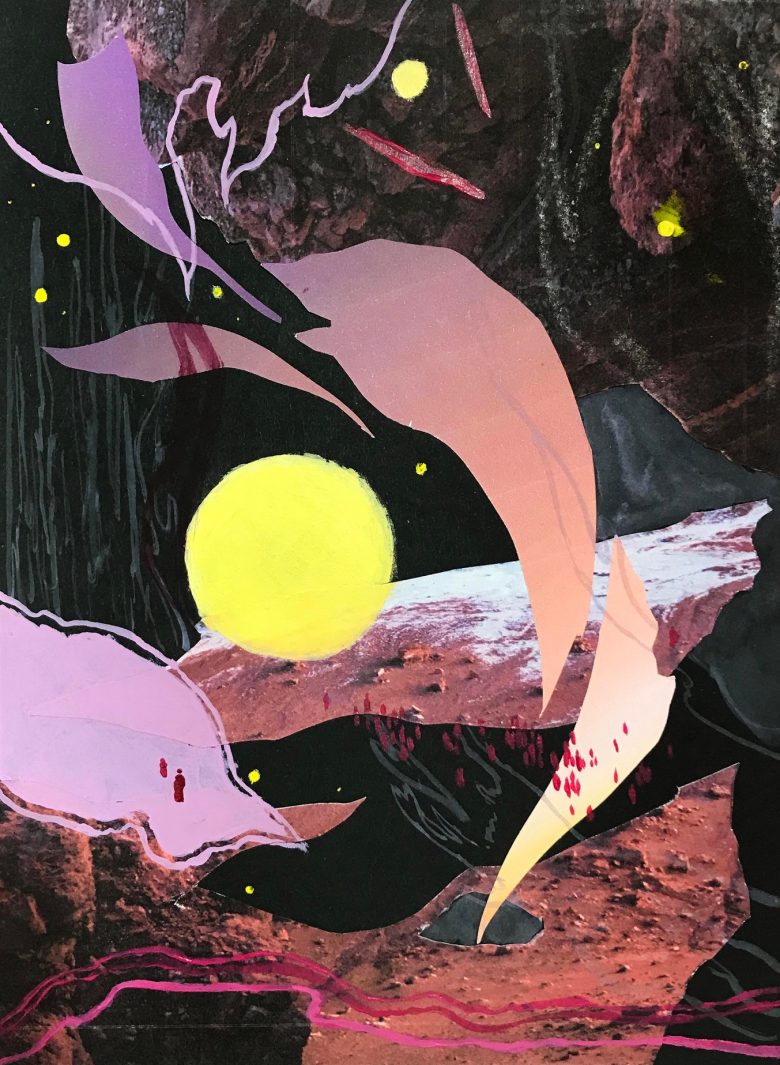 Canyons of Smoke, 2020 (Acrylic, watercolor and collage on paper)
JJ: Describe your creative process.
Sarbani: Most of my paintings start off with spraying or soaking the surface of my substrate with water, and then using a palette knife to paint on top. I love the way water disperses water-based pigments, and sometimes I mask or use salt to create shapes and texture. After that dries, my process involves seeing what kind of image the free-flowing paint produced, and responding to it with additional layers of paint and collage. When I feel that I've created a space, I start to add in lots of detail, and the tiny people that I paint into my works. They serve as multiple entry points into the painting.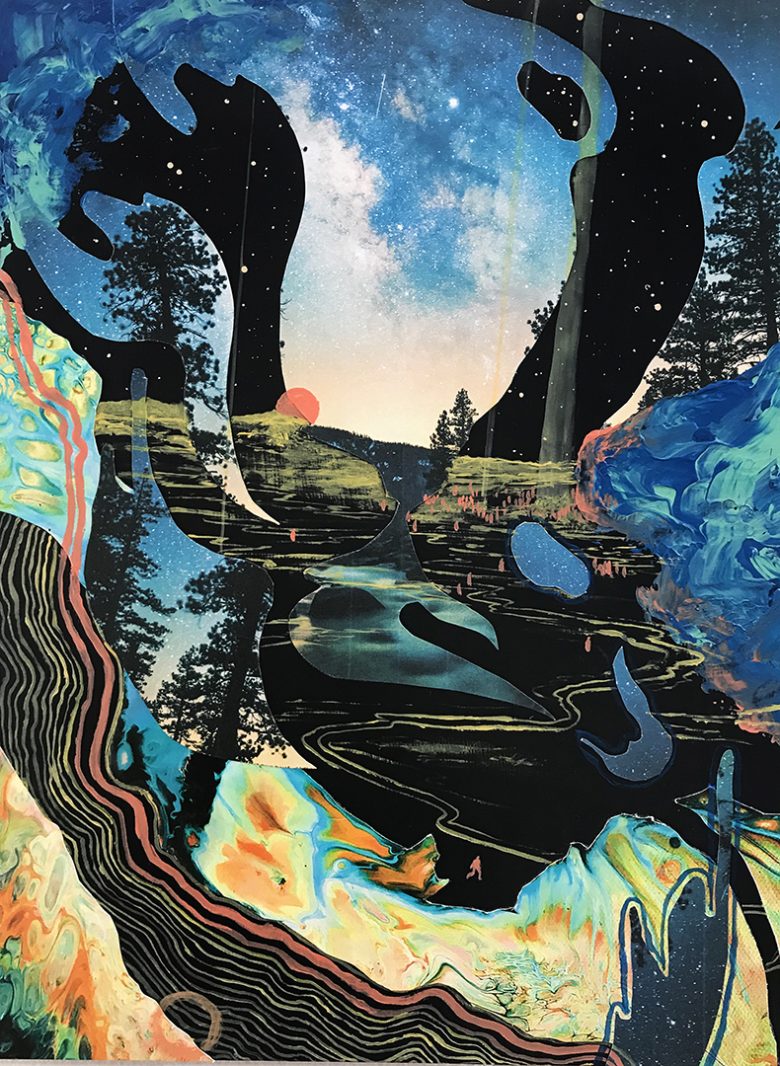 The Messenger, 2020 (Acrylic, watercolor, and collage on panel)
JJ: Name an art exhibition that had a lasting impression upon you.
Sarbani: Frank Stella had a retrospective at the Whitney and I can still remember how vivid his work is. I can almost walk through it in my mind! The shapes and color and monumentality of his works really stuck with me.
JJ: What inspires you to create?
Sarbani: It sounds cliché but I have a deep inner drive to create, so much so that I don't have to think when I make work. It really is a process of turning off my brain and letting my instinct and subconscious do the work.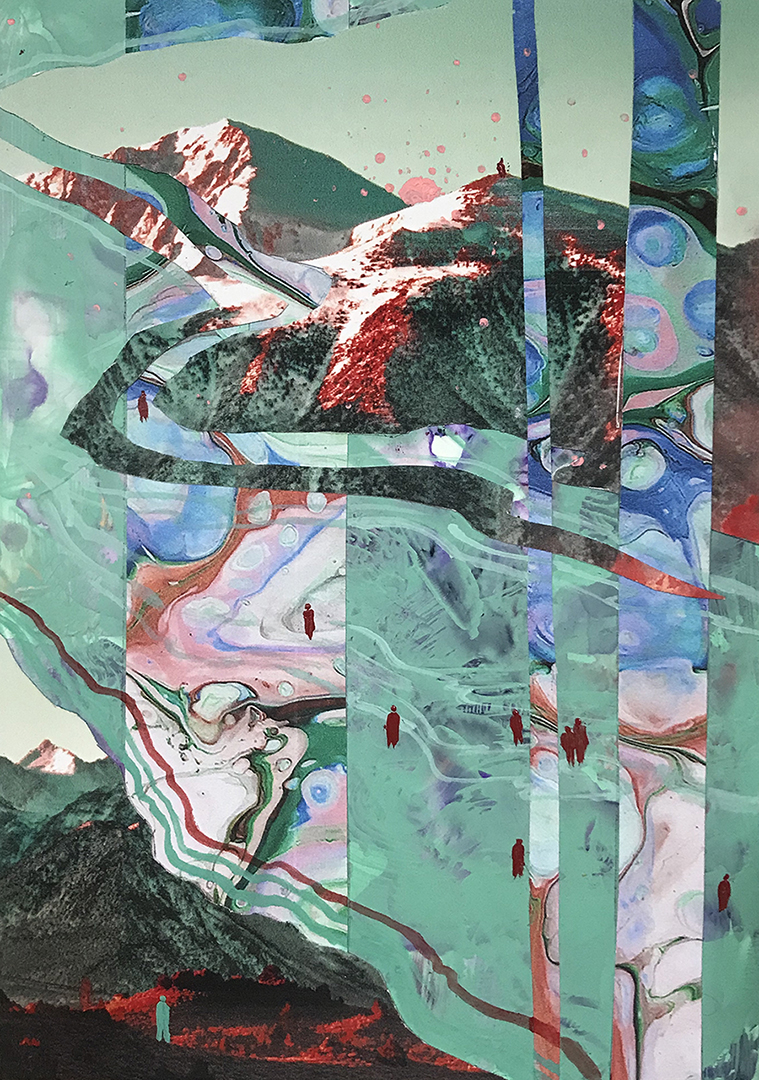 To Know You Better, 2020 (Acrylic, watercolor, and collage on Yupo paper)
JJ: Name a favourite artwork of yours.
Sarbani: Julie Mehretu's Retopistics: A Renegade Excavation (2001). I've been a huge fan of Julie Mehretu's work. I especially love how the paintings create an in-between space. It's between abstract and spatially figurative, dynamic and static, and I love that about the work.
JJ: What are some tools, techniques and materials that you employ to create your work?
Sarbani: For my paintings, I'm usually working with watercolors, acrylic, some iridescent paints and collage. I use a lot of found imagery for my collages and I'm constantly looking for more images to use in my work. I've also started making these papier-mâché sculptures recently, and I've been using a lot of paper, wire, and paint for those.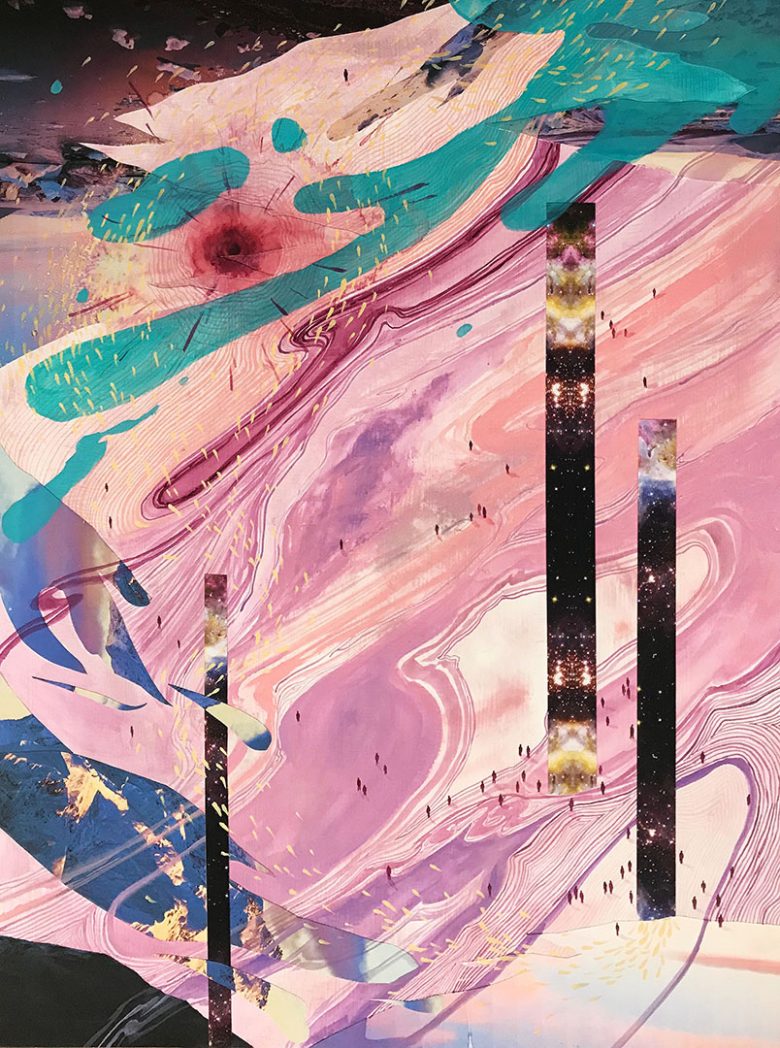 Slipping Through My Sinewy Thoughts, 2020 (Acrylic, watercolor, and collage on panel)
JJ: What advice do you have for someone who wants to be an artist?
Sarbani: Follow your instincts, even if everyone around you is telling you not to do something or not to go into art. If it feels right, and makes you feel alive, then go for it! Also look at a lot of work, and I mean a LOT of work. Expose yourself to art that you don't even like, because ultimately it all has something to teach you. I'm really very lucky that I live in New York City as I've been able to see so much art in my free time. And a lot of museums and galleries can also be viewed online — so take advantage of it!
JJ: What are some of your favourite art world related social media accounts, podcasts or websites?
Sarbani: I read Hyperallergic and Artnet News regularly which helps to keep up with everything going on. I also follow a lot of art meme accounts on Instagram like @jerrygagosian. I have a wide range of podcasts going on in the studio (same with music). My favorite one right now is Sound and Vision. I also really like Art Uncovered but I'm biased because they interviewed me!
JJ: What do you like to do when you are not making art?
Sarbani: I love to cook and bake, especially because I can really focus on creating something and enjoying it afterwards! I also like to explore parks, museums, galleries, nature, and go hiking.
---
Contact us if you are interested in more information about the artist and purchasing her works. We encourage you to support women artists to bring greater diversity into the art world!