J'AIPUR Journal: Please introduce our readers to your series of works that are part of our online exhibit. How did these works come about?
Miloni Shah: The 'Dreamscape' series is my attempt at capturing the beautiful, glowing scenery from my travel memories and evening walks. It's amazing how the same view at different times of the day can evoke different emotions. I find that painting water can be a particularly soothing process. It is such a powerful subject and through the process of creating these pieces, I have discovered things about myself in the currents and ripples. Building layers of oil paints using palette knives and then combining them with subtle lines and rich textures led me to paint these soft landscapes.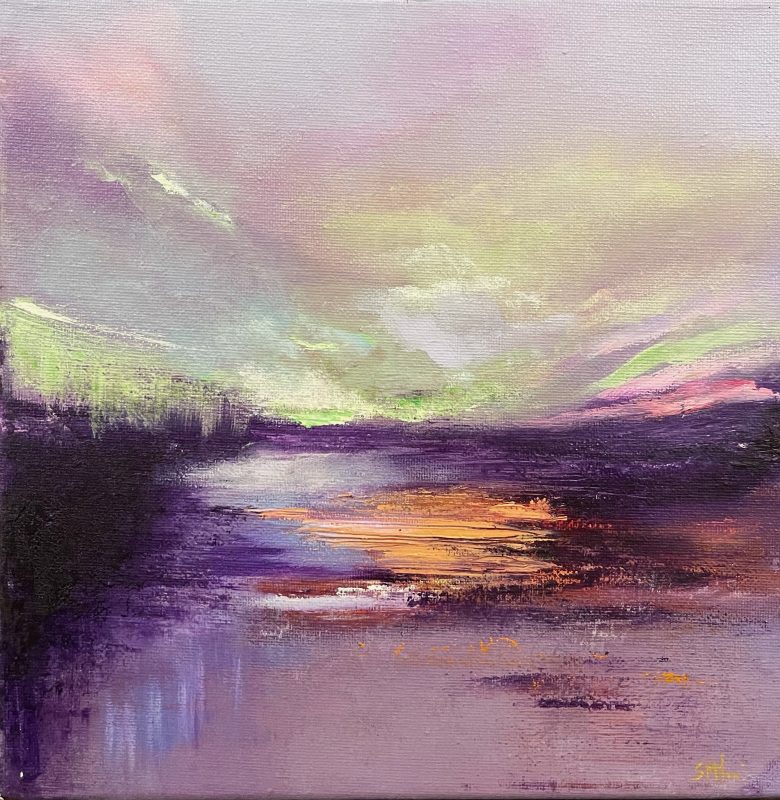 In the Evening Light, 2019 (acrylic & oil on canvas)
JJ: What is your background and how did you become an artist?
Miloni: Having found my feet and style, art became a profession for me less than three years ago. Until then, I was a hobby painter with a business degree and a commercial job. I started painting instinctively for the love of it when my parents bought me my first canvas in 2008 while I continued my education in management studies in Mumbai and then in the UK. Soon afterwards, I had a chance to spend a few years in upstate New York and now reside in the hilly city of Pittsburgh. Ever since I was a child I loved creating whether it be with mud, clay or paint. Oil painting laid the foundation of my artistic journey and I gradually tried building up my knowledge and techniques over the years. I enjoyed exploring various themes inspired by my Indian culture and surroundings but somehow gravitated towards nature based paintings. Of late, I have found therapeutic comfort in gouache as well as watercolor mediums and I take pleasure in creating illustrations and contemporary abstracts.
JJ: Describe your creative process.
Miloni: I like to start by putting together some mini abstract paintings on paper to test different color palettes – more like seeds for the larger work. Listening to music while creating art is something I have always enjoyed and recently came to realize that the tempo can affect brush strokes. Overall, I primarily depend on my intuition for fragments of images to connect and unravel as they try to find their place in my vision. I like to keep things in layers and give my work the space and time to eventually combine into one piece especially when working with oil paints.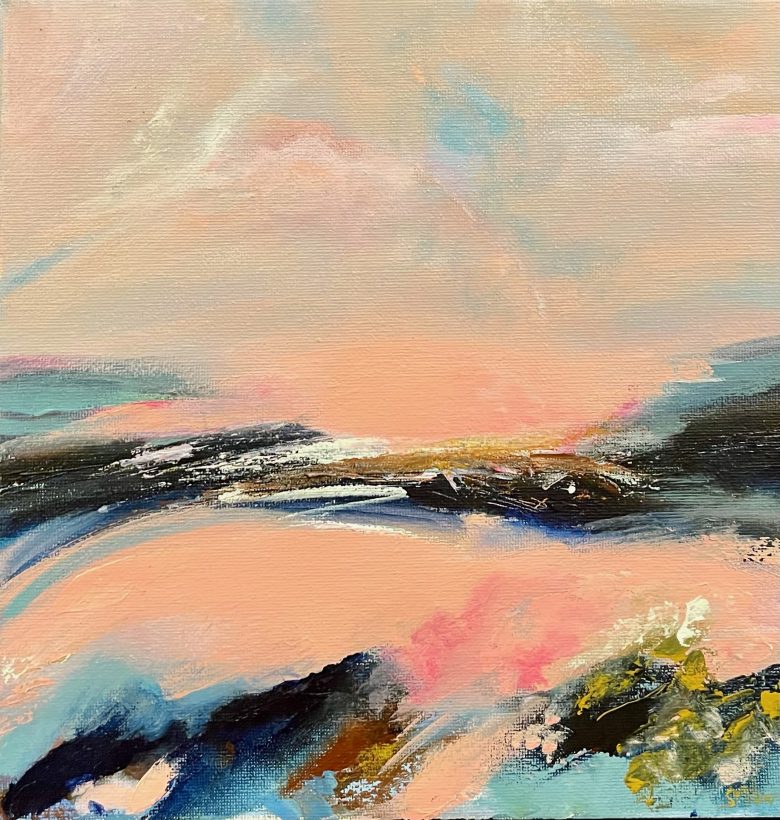 Calling Home, 2019 (acrylic & oil on canvas)
JJ: Who are some women artists (living or dead) that you admire?
Miloni: Bharti Kher's use of the 'Bindi' as a central motif in her work and B.Prabha's figurative depiction of rural culture – both have always intrigued me. I am deeply inspired by their creative techniques of infusing elements from their Indian roots into modern and contemporary art.
JJ: Name an art exhibition that had a lasting impression upon you.
Miloni: My wish finally became reality when I visited the MOMA a few years ago. I was enchanted with Monet's iconic Water Lilies exhibit — paintings which represent the water garden at his home in Giverny. Monet's feeling for color and appreciation of natural light are truly inspirational. It felt like a beautiful, meditative experience.
JJ: What inspires you to create?
Miloni: Ever since I started painting, I have derived some inspiration from natural color palettes around me; I notice how some colors work together better than others. I may see a scenario in daily life, during my travels or evening walks where certain colors, textures or forms catch my eye. I photograph them and keep them in mind. I then find a subject that will really be enhanced by this idea for a colour. I have always been in awe of nature's color palette and I enjoy experimenting with combinations that feel fresh. Most people who see my work tell me about the sense of calm they feel, especially when they visit my Instagram page @smiloni_ and that's what keeps me going. I want it to be a place on social media where people can connect with nature and get a deeper understanding of our relationship with nature.
JJ: Name a favourite artwork of yours.
Miloni: The 'Sounds of Silence' photography series by Vasantha Yoganathan. The stillness and serenity is what I was most drawn to juxtaposed with his quote: "Within white I was seeing a thousand colors".
JJ: What are some tools, techniques and materials that you employ to create your work?
Miloni: I suppose there are many factors that come together to create the final piece and in a way it really belongs to the moment it was painted in. Techniques for my paintings seem to vary from piece to piece as I work in mixed mediums. Working with oil paints allows me to take my time to build layers and gives me the ability to go from very thin applications to palette knife layering. On the other hand, with watercolours, I love seeing the movement of paint on paper along with the mere delicacy and transparency of each stroke. One of my recent process trials involved making my own (plant based) natural ink using dried flower petals and daily produce items such as turmeric, avocado pits and onions. It opened up the world of sustainable art for me.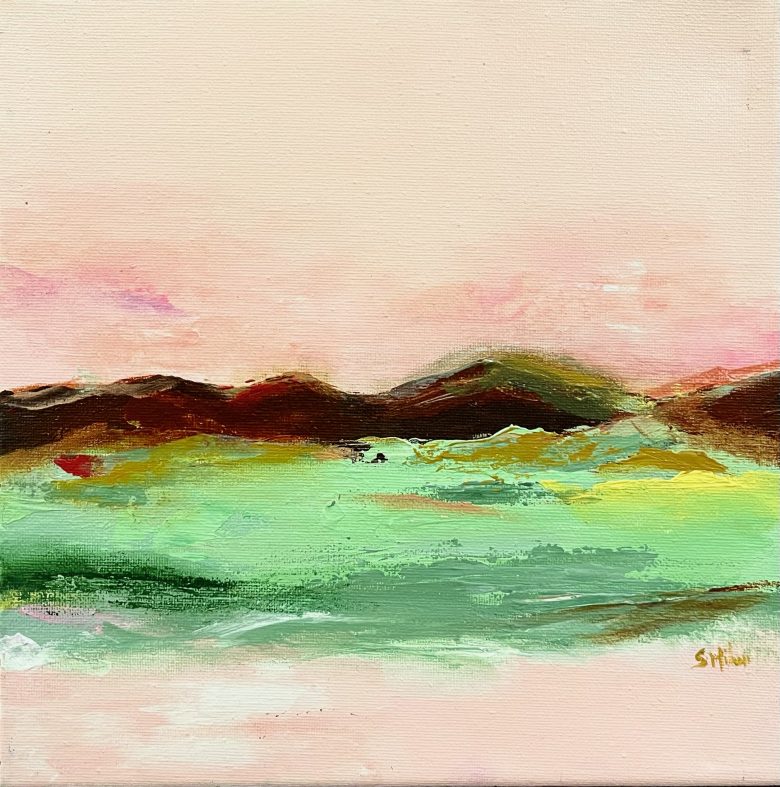 Joyful Evening, 2019 (acrylic & oil on canvas)
JJ: How would you like to see your artistic practice/career evolve over the next few years?
Miloni: I would like to believe that my artwork brings a vibe of the natural world into a space. My paintings are generally quite organic and serene so I hope that they can offer art-collectors and interior designers the potential to work with something familiar yet contemporary to further accentuate their space or project. A short term career aspiration for me is to see my minimalistic watercolor botanicals and soft landscapes turned into tangible art in the form of textiles designs and prints.
JJ: What advice do you have for someone who wants to be an artist?
Miloni: A quote that I wish I had come across earlier is, "Learn continually — there is always 'one more thing' to learn!" by Steve Jobs. Determination and desire to learn play a very important role in our creative journey and help nurture it.
JJ: What are some of your favourite art world related social media accounts, podcasts or websites?
Miloni: The Indian Edit hosted by Nitasha Manchanda, is an absolute favourite. Not only is it a podcast about the journey of innovators in the cultural and entrepreneurship world but somehow it has the energy to pull me up and motivate me.
JJ: What are some challenges you have faced as an artist?
Miloni: I constantly felt that my creative journey could have been better had I taken a formal art education in college. However, over time, connecting with more artists has made me realize that each person has their own path to follow and everyone works differently to find their artistic expression and language. My focus is trying to connect with people through my art and hoping for my work to resonate with others on many different levels.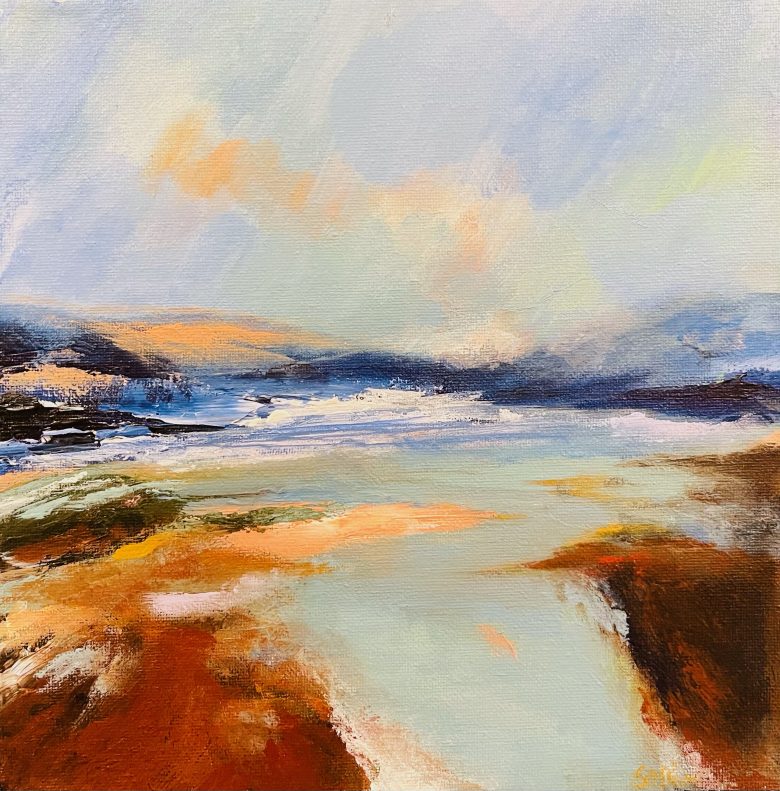 Ocean Light, 2019 (acrylic & oil on canvas)
JJ: What do you like to do when you are not making art?
Miloni: I find that experimenting with food is similar to creating a painting in many ways. Even when using simple plant based ingredients, cooking gives me space for expression and color creativity. Another everyday practice that helps me find stillness in the movement is Buddhist chanting and meditation. Becoming aware of our daily works of art gives more meaning to them.
---
Contact us if you are interested in more information about the artist and purchasing her works. We encourage you to support women artists to bring greater diversity into the art world!