Jatinder Singh Durhailay is a familiar face in the media with modelling stints for major fashion brands and international magazines. However, this stylish Sikh possesses more than just fashion prowess. At the core, he is a creative force whose soulfulness translates into his paintings and music. For instance, Jatinder reinterprets tradition and history through classical Indian instruments such as the 'dilruba' (meaning 'heart stealer' ) which became popular with Sikh warriors and the maharajas of Punjab around 200 years ago. Originally from London, Jatinder calls Berlin home these days where he resides with his beautiful and equally artistic French fiancée, Johanna Tagada. The two of them live a serene life devoted to the process of creation in this bustling German capital.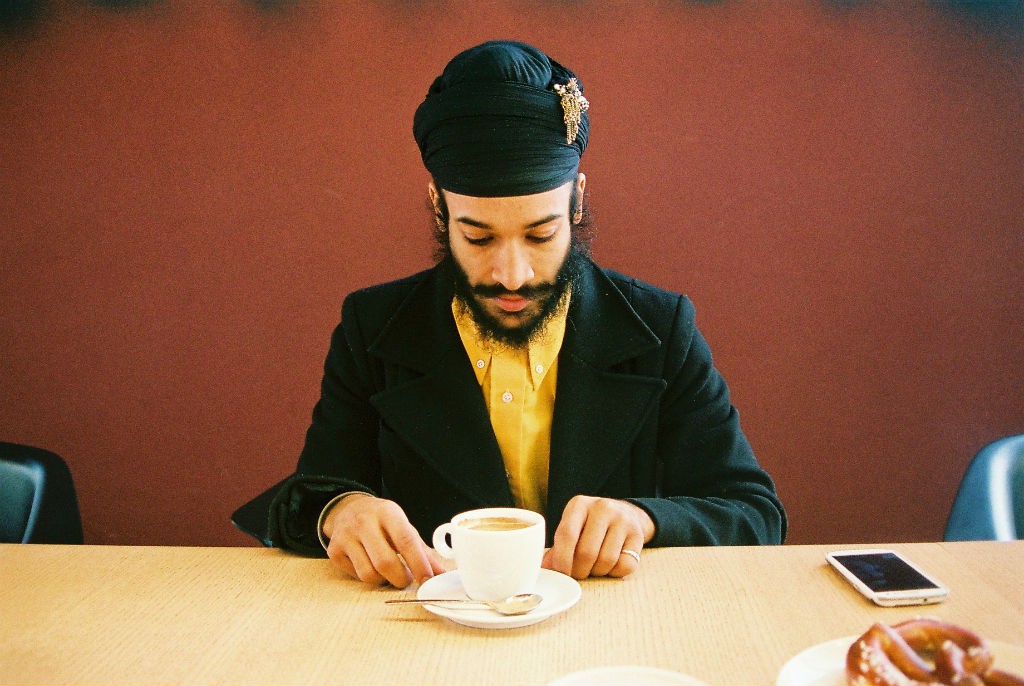 What do you love about living in Berlin? It's not as busy as London. I have a lot more time to work on my paintings and music. I have the space to develop further as an individual and most importantly I have Johanna there with me.
How do you get around in the city? Well, we travel around using public transport, or taxis. But I really like walking, especially when it's a nice day.
What's your neighborhood and why do you like living there? Prenzlauerberg, really near to Mitte. It's a lot more quieter with nice cafés and mostly couples, so it's not the mad party side of the city. I'm glad we escape that.
What's another favourite district of yours? I like to go to Museum Island for walks and looking at the architechture.
What inspires you in Berlin? Nature and walking. I like the pace of life here. Also, there is always something nice to do. I am a big fan of museums and second hand stores — so that is always inspiring.
Where should we go for:
Breakfast or brunch? The BIO store. They do some good eggless cakes and croissants using brown sugar — none of that refined bollocks.
Vegetarian fare? Kopps.
Date night? Donath Osteria Ristorante is our favourite place.
Coffee/Tea? MAMECHA Green Tea Café in Mitte.
Shopping/Markets? Mauerpark Berlin is a good market.
Art? Too many good and bad ones to list. Here is a good one — Circle Culture Gallery.
Electronic music? Not sure, not too much of a fan of electronic music. I prefer musicians who can actually play instruments and sing.
Books? This whole place is full of amazing book shops — you will never know what you will find. That's what makes it exciting.
Best view of the city? From bed. Looking at the full moon that shines over us all.
What's a tourist attraction in Berlin that you still enjoy visiting?  The Jewish Museum — powerful.
What/where should we avoid if we're limited on time? Trains, they have a mind of their own – stop services where they like impromptly. Get a taxi if it's important.
Favorite green space/park for walking or picnic? Our local park: Volkspark near the Brunnenstrasse station.
What's a good day trip from Berlin? We like to jump on the aeroplane and frequently escape back to Strasbourg (France) or London (England) for some family love and warmth.
Best place to get a culture fix? There is always a lot of events going on from music, theatre and concerts. I can't really say. It's really easy to get to do things you enjoy. I recently played at the LIDO with King Khan and the Shrines. That was fun.
What hotel do you recommend to out of town friends? Hotel Wasou Asakusa. Hold on, that's in Japan. I don't know — never had a hotel here.
Describe a perfect weekend for you in Berlin. Waking up, eating breakfast with Johanna, exercising, washing my hair. Then painting, going out for a walk, just enjoying each moment. Berlin's great, but it's not about the place — it's about who you enjoy your time with. At this moment in my life I am lucky to be engaged to Johanna Tagada. I now have someone to enjoy each moment with. Berlin is good for us — it lets us be free with our artwork and time — and because we travel a lot, it's always good to come back to, and just unwind. I really can't say or describe a perfect weekend for you, because that limits my experience in a list —  it's just not that simple. If i could say anything, a perfect weekend would be to spend time with my other half. We enjoy each other's company. Berlin is NICE!
View more of Jatinder's portfolio on his website and the online shop. Listen to his music here.