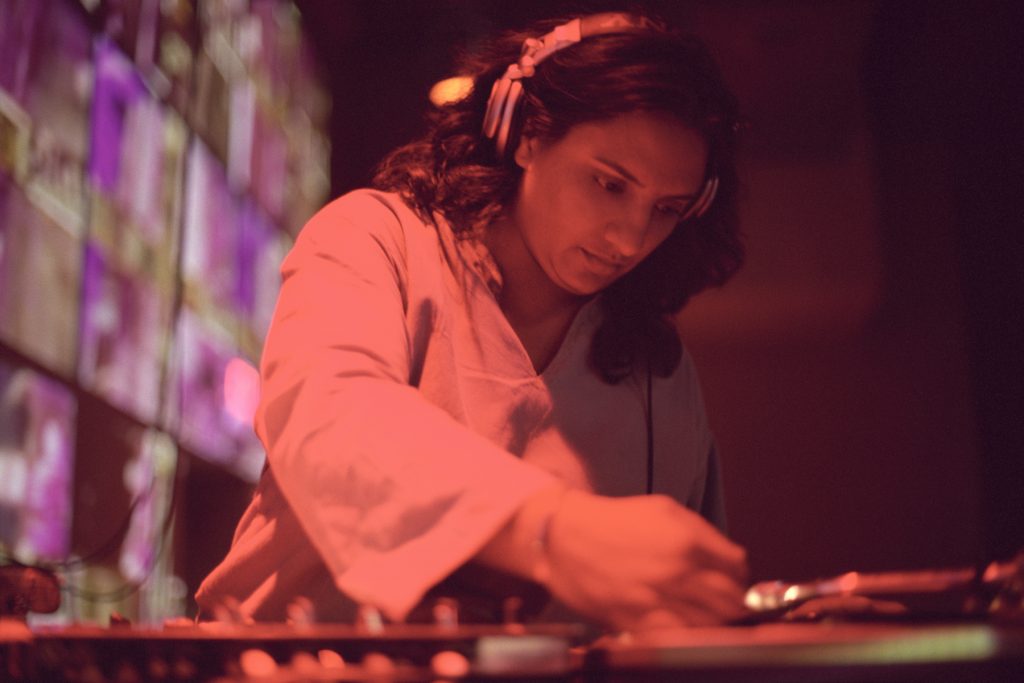 Rekha Malhotra, better known as DJ Rekha, is a London-born, New York-based musician, DJ, producer, curator, and activist. She has been credited with pioneering bhangra music in North America and her first album, DJ Rekha Presents Basement Bhangra—released in 2007—fuses the Indian genre of bhangra music with international hip-hop and drum beats. DJ Rekha spent the first year of her life in London, and the following three years in New Delhi, India, a time period she credits as being critical for her exposure to Punjabi, the primary language of bhangra. She returned to London briefly until her family moved to Queens, New York, where she spent most of her adolescence. She graduated from Queens College with a degree in Urban Studies while simultaneously experimenting and honing her craft on the turntables. Since its launch in 1997, Basement Bhangra has popularized the traditional-modern bhangra blend, making the genre a part of the New York club scene. DJ Rekha performs at her monthly event at (le) poisson rouge in New York City.
---
On gentrification in New York // We're in a shift when things are changing, in a deeper way. The conversation around gentrification is very surfaced. People are not looking at the larger forces that influence things. It's hard to know if this is how it is or if we're seeing something extraordinary. […] The idea that wealth is only in the hands of a few —is that a new thing? Is that an old thing?
On the creative journey // One thing led to another. Part of what got me to that place was choices that are out of your control, the choices your parents make, where you're born, where you go. […] The two things that informed my sense of community were: (1) growing up in Westbury, Long Island, and (2) going to the gurdwara as a kid. I'm not religious at all but just learning the concept of seva (community service) as a kid just stays with you. […] Musically, having grown up as a second-generation immigrant with parents listening to certain kinds of music at home and trying to find other kinds of music outside, growing up in a mostly black community and accessing the music that was there. My dad had a store in the city. [I] worked there in the summers, started reading the Village Voice and learned about a whole other world—a creative world—learned about all kinds of music and culture. I did live in Long Island, but I had exposure to certain aspects of urban culture.
On being creatively satisfied // I'm trying to figure out the next thing. I don't know what that is.
On inspirational South Asian creatives in New York // SAWCC (South Asian Women's Creative Collective) is very important to me. It was formed at a crucial moment in New York. '97 was when Basement Bhangra started, when SAWCC started, when these organizations formed as a moment of critical mass where we were trying to figure ourselves out and build community. I met a lot of people through SAWCC: Bushra Rehman who's a writer, Chitra Ganesh who's a visual artist, Sarita Khurana who's a filmmaker…this is some of my creative community. There are so many people. My friend Raj Makhija —we've done some collaborations together. He's a producer, engineer, musician. […] Over time, different DJs I've worked with, the New York City musical community, and other women DJs I've known throughout the years.
On success // Don't take it for granted. […] I just try to play good music. […] Within South Asian culture, sometimes there's not a lot of differentiation between a wedding DJ and someone who deejays at a club and for me that distinction is huge…it's a very different landscape. Deejaying private events and weddings is really good training if you take it seriously. but you can also get away with the lowest common denominator of music. […] I only play stuff that works on the dance floor. I'm also very aware that my audience may not know the lyrics.
On starting out // Fake it till you make it. Do it, but make sure you can pay for your rent. […] To be an artist, you have to come up with certain strategies on how to support yourself. Be in it. Be nice to everybody. Try not to be around people who are toxic. You're always going to take the one gig too many. You're always going to get exploited too many times…just be in it. Know your stuff. Know your gear, equipment and music. Listen. Experience.
On social media // You gotta get with the times but be true to yourself. It's always hard. The best way to go about it is to find community.
On collaborations // If a gig makes sense, you do it and if it doesn't, you don't.
On favourite DJs // DJ Reborn —we collaborated on something last Fall. She's just a great deep-cuts DJ all around.
---
{Photograph by Nisha Sondhe}