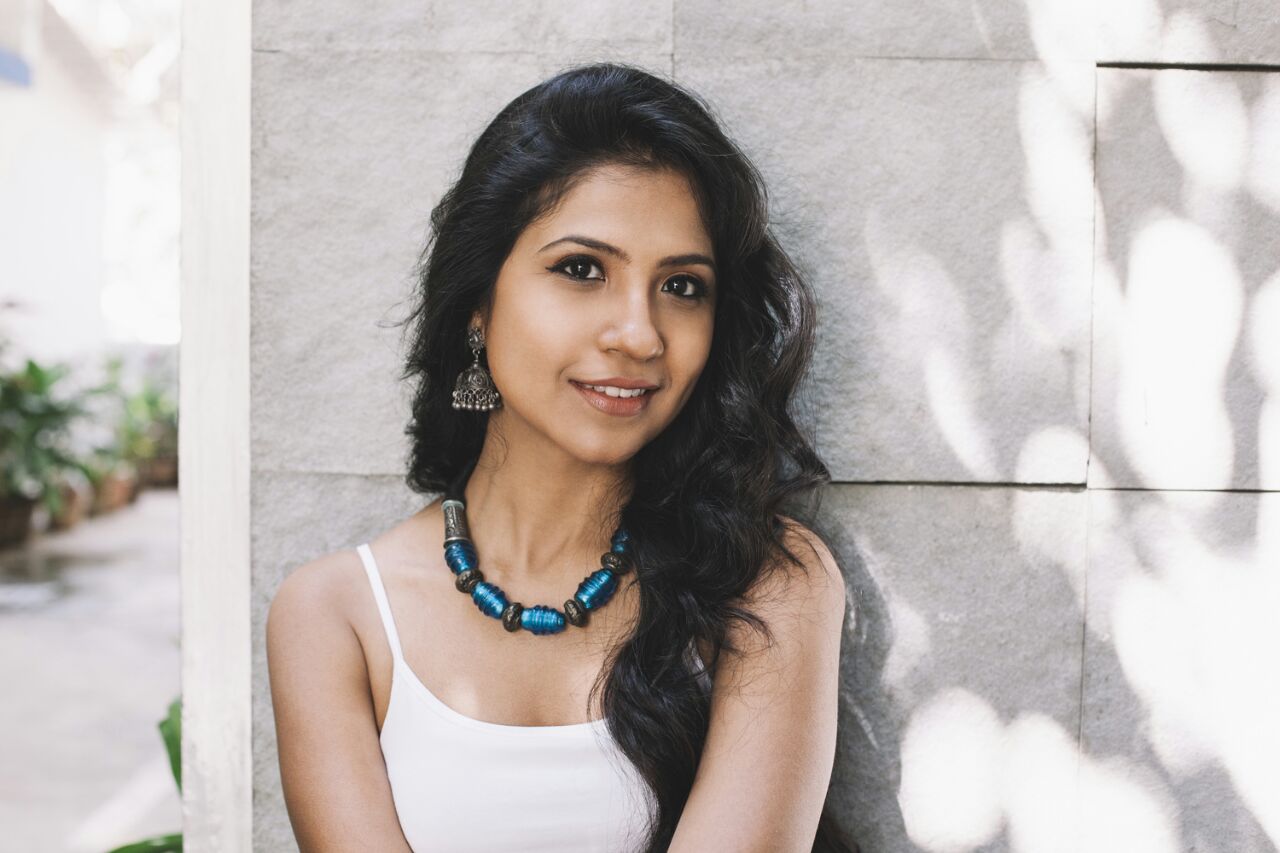 We discuss the filmmaking process with Director Sruti Harihara Subramanian whose documentary film A Far Afternoon – a painted saga by Krishen Khanna takes the viewer up-close with one of India's most prolific and influential painters, as she memorializes the artistic process in creating his largest canvas to date, earning her India's National Awards for Best Art/Cultural Film and Best Music in the non-Feature category.
J'AIPUR: Were you always interested in filmmaking? Describe your creative journey to where you are now.
SRUTI: My beginnings were no different from any other Tam Brahm girl growing up in Madras. I was sent for music and dance classes while managing my academics quite well. I was also very active in my school theatre and cultural groups. But a career in arts was never conditioned in us. I realised most of my seniors, however talented they were, had to just leave them as 'hobbies' while building their careers as engineers or doctors. I realised I loved what I was doing too much and did not want to let go of it and that is when I decided to do a course in Visual Communication. During this course, I was exposed to various creative avenues like photography, painting, graphic design, scripting, etc. which again really excited me.
This was also the time I won the Ms. Chennai title and I got to model for several brands. I also had the opportunity to act in a serial directed by an eminent director, the late K. Balachander, and a few others. Through these experiences, I was always curious about what went on behind the camera. Our family never went to movie theaters and I was hardly exposed to cinema. But during this time, when I started watching films, the fact that they can draw you into a different world really excited me. That was when I decided cinema is the only place where my love for music, dance, art, acting, photography, etc. can all converge. I then started assisting various directors to learn the craft and how the industry functions.
J'AIPUR: What attracts you to the documentary style of filmmaking?
SRUTI: You could call me an accidental documentary filmmaker. My training in cinema has been in mainstream commercial films in Tamil, Hindi and Telgu working as an AD. I was in fact ready to pitch my fiction scripts to producers to start a film on my own. It was during this time that the offer of this film came up, which I coudn't refuse. I had to literally unlearn everything I knew about fiction filmmaking to fit into the docu language.
J'AIPUR: Describe 'A Far Afternoon' in three words.
SRUTI: Journey. Meditative. Art.
J'AIPUR: What stirred you about the work of this particular artist, Mr. Krishen Khanna, to make a documentary film about him?
SRUTI: Ashvin Rajagopalan, the director of The Piramal Art Foundation came to know that Krishen Khanna was painting one of the largest canvases in his career. He felt that this process had to be catalogued/archived as it was a big moment in the history of Indian art. I didn't know much about Krishen but I knew that he was in the same league as artists like MF Husain, Souza and Raza who were pioneers in Modern Indian Art and as a young filmmaker, it would be a great honour for me to document such an eminent artist. I was also excited to do this film as very rarely does one get to see the creation of an artwork and to know what goes into a mind of an artist. There is a misconception that artists run around their studio and splash colours. But, after meeting Krishen, I saw that every stroke of his brush is a well-thought-out move. It was very meditative to see him work and I wanted to transfer the same mood to my audience as well.
J'AIPUR: What was it like working with Mr. Khanna?
SRUTI: It was a great learning experience while making the film both professionally and personally for me. When I was asked to make the film I was initially nervous because you have heard stories of artists being moody and especially the older ones being very cranky and non-cooperative. But, upon my first meeting with Mr. Khanna, I realized that he is a man full of life. He loves people and he loves to see life in a very positive way. He is a very funny man and has a distinctive laughter. He loves to talk and tell stories. There were times when he could go on and on till the end of the day while the crew and I (who were probably a third of his age) got very tired. Mr. Khanna and his family are wonderful people and very hospitable. They opened the doors to their home and studio for me and my team. Mr. Khanna, though 90, is full of energy and very charismatic which made my job as a filmmaker easy. I am able to utilize many of his theories and concepts in art in my own craft as a filmmaker.
J'AIPUR: Can you tell us about your approach — once you had the idea, how did you go about shaping the structure of the film?
SRUTI: Initially my cinematographer and I took some time to get to know the artist. We visited the artist in his home which also housed his studio. We also read up a lot on him, mostly biographies and articles. I also got to see some of the lectures that he had given before. This made us understand Krishen a little better, the person he is, and understand many theories that he had stated. It also made me realise that invariably certain stories or anecdotes or concepts got repeated in all the platforms that we had explored. So, at that point, I was very sure that my film had to say things that has not been said before.
Simultaneously, we started shooting him paint as we didn't want miss out on the process. Krishen is a man full of life and energy even at the age of 90. But when he paints, the process is extremely slow — every step well-thought-out and meditative. This 'meditativeness' was passed on to us while we were filming. We too got into a 'zone' and even technicians like our light men or camera assistants, without being told, became extremely silent and watchful of every step. I thought this was something wonderful especially since films have so far had a way of portraying artists as splashing colours, moving the brush fast, and running around their work space. I wanted to break that notion and tell the 'truth' on how Krishen paints. I wanted to try and bring the same meditative feeling that we experienced as viewers of his work to my audience. But I had to also keep a watch on the overall pace of the film.
Also, the contrast of Krishen, in his studio painting, and the person he is while not painting, was interesting for me. Krishen used to keep saying that he would never know where the painting is taking him so we couldn't initially make concrete plans on how the film had to go. At the end of the first schedule, after many discussions with my cinematographer, editor, producer and interactions with Krishen, I realised it is impossible to do justice and cramp his whole 90 years of a lifetime in an hour's film. Even if we did, we would have nothing new to tell compared to the various books and articles on him.
So, while going through the rushes, I realised what we had was priceless and unique because nobody else has captured his process of painting, and the painting was surely heading to be a great masterpiece. It was at this time Ashvin mentioned that the painting could be categorized as a mural for its sheer size. We decided to talk about Krishen's murals—some popular, some not so popular—since Krishen is one of the few artists that could shift effortlessly between a small notebook sized artwork to large murals. I also realised that this one painting encompasses all the elements of his life and experiences — the motifs he has used in his other paintings like Bandwala, etc.
More than anything else, to see a 90 year old man paint a 20 ft work is a story by itself. This was enough to create interest for my viewers. So I decided to keep this particular painting as the centrepiece and decided to talk to people about him through it. The final painting was made combining 5 canvases, and the film too is segmented into 5 parts.
J'AIPUR: What was your favorite part of the filmmaking process for this documentary?
SRUTI: Every aspect of the filmmaking process is close to me. It's my baby you are talking about!
J'AIPUR: If you could go back, is there anything you would do differently during the filming?
SRUTI: A filmmaker always feels s/he can improve his film. It is a continuous process. Finances and other external factors make us say our film is 'finished'.
J'AIPUR: What does winning the National Awards for Best Art/Cultural Film and Best Music (Non Feature) for this film mean to you?
SRUTI: The National Award is the highest award that a filmmaker gets in our country. So getting it for my first film was truly unbelievable and I think it hasn't fully sunk in. It's truly an honour and the biggest award I feel is the happiness it has brought to the people around me. I'm glad that I was able to make the people around me proud.
J'AIPUR: Creating a film must be a process of discovering many backstories along the way. Do you feel you were able to bring those onscreen?
SRUTI: I think I was able to bring most of it. But, due to paucity of time, many stories were left out. But even things that were missed out in the final edit, I tried to have elements of them or use them in the story-telling process. For example Krishen spoke a lot about his love for Chennai, its people and carnatic music. He spoke about his favourite ragas. We were unable to keep those bits in the film. But when the final decisions came regarding the musical compositions, I decided to use the ragas (Sankarabaranam, Kathanakuthalam) that he liked in the film. The audience might not know it, but it did bring forth a complete dimension of the person that he is.
J'AIPUR: What were the challenges in making this film?
SRUTI: My training as a filmmaker was working as an Assistant Director in mainstream commercial Telugu, Tamil and Hindi cinema. After working in fiction films, my greatest personal challenge was to unlearn everything I knew in order to fit into the non-fiction mode. In fiction, we work on bound scripts, know the scenes being shot for the day, plan the shots — basically everything is planned in advance. But in non-fiction, even if you have a basic plan, you have to be ready to improvise and make sure you do not miss out on any important moment. There is no concept of saying "action" and "cut" to the cinematographer or actors. Some people do stage things in documentary, but I was very clear that if I have to depict the truth it has to be the whole truth, and will not stage or go for retakes. Also, in fiction we can get into editing even during the shooting stage and get scenes ready once they are shot. The process is far more simple and short compared to non-fiction. In non-fiction we have to wait until we have all the footage to build the film on the edit table. I also wanted to make sure that in no way was the truth manipulated on the edit table which can easily happen if you are not conscious or aware. We also took a decision to shoot the film on Arri Alexa which is unheard of in modern day documentary filmmaking. But my cinematographer insisted that since it was a film on art we shouldn't compromise on the visuals. (The road shots and the bharaath alone were shot on Black Magic.) We were glad we made that decision but it did put immense pressure on the budget of the film. Also, a predominate part of the film was shot in Delhi where Krishen resided and it is a city that is not very 'film-friendly' like Chennai or Bombay. The whole of Delhi had just 2 Arri Alexas and we had to work around the dates of the camera which is something we have never faced before. Our cinematographer is from Pondycherry, editor from Mumbai, production sound recordists from Mumbai, Krishen from Delhi and the producers, music composers and I from Chennai. So it was difficult for all of us to coordinate with our shoe-string budget and we all had to work without assistants. All this is an afterthought. Looking back at the process, while it happens, you never realize it because filmmaking is all about overcoming challenges. If nothing goes wrong while making a film, then something is wrong.
J'AIPUR: What was Mr. Khanna's reaction to the film when he first saw it?
SRUTI: Mr. Khanna really enjoyed the film. He has seen it about 3 times with the audience and each time he reacts to it like he is watching it for the first time. He said the film has told the "truth" and was honest. So far the audiences and the art fratenity seem to have liked the film. They have claimed that they felt that they were in the studio with the artist and was unlike most documentaries on artists that they have seen. Some of the compliments given by his close family and friends are very close to my heart. Some audiences who have not been exposed to art before have told me that they didn't know that so much went into an artwork. Some who never knew about Krishen have gone back home to read up more about him and his art.
J'AIPUR: What is your advice to an aspiring documentary filmmaker? 
SRUTI: Do your work. Hard work and passion does pay off someday. Most importantly, be honest with your stories.
J'AIPUR: What's next for you, creatively?
SRUTI: Right now I am busy promoting the film with private screenings and taking it to a few film festivals where it has been selected. We had our International premiere in Stockholm and we are now having our North American premiere at the New York Indian Film Festival. I have bound scripts for two fiction features that I am in the process of pitching to potential producers. I am also taking this time between projects to go back to the stage to act. Meanwhile, my company Happy Wanderer Films will continue making corporate films for our daily bread and butter. I also run a retail business that focuses on products that are upcycled and I run a film archive back home — all of which are equally creative jobs!
---
A Far Afternoon – A painted saga by Krishen Khanna premieres at the New York Indian Film Festival at Village East Cinema on Friday, May 13th at 6.30pm with a post-screening Q & A with Sruti Harihara Subramanian.
Interview by Rupi Sood // All images kindly provided by Sruti Harihara Subramanian // Cover photo by Renuka Retnaswamy