We've curated a selection of art exhibits spanning several countries—India, Japan, Egypt and Nepal—that are worth checking out at galleries and museums in New York City this winter.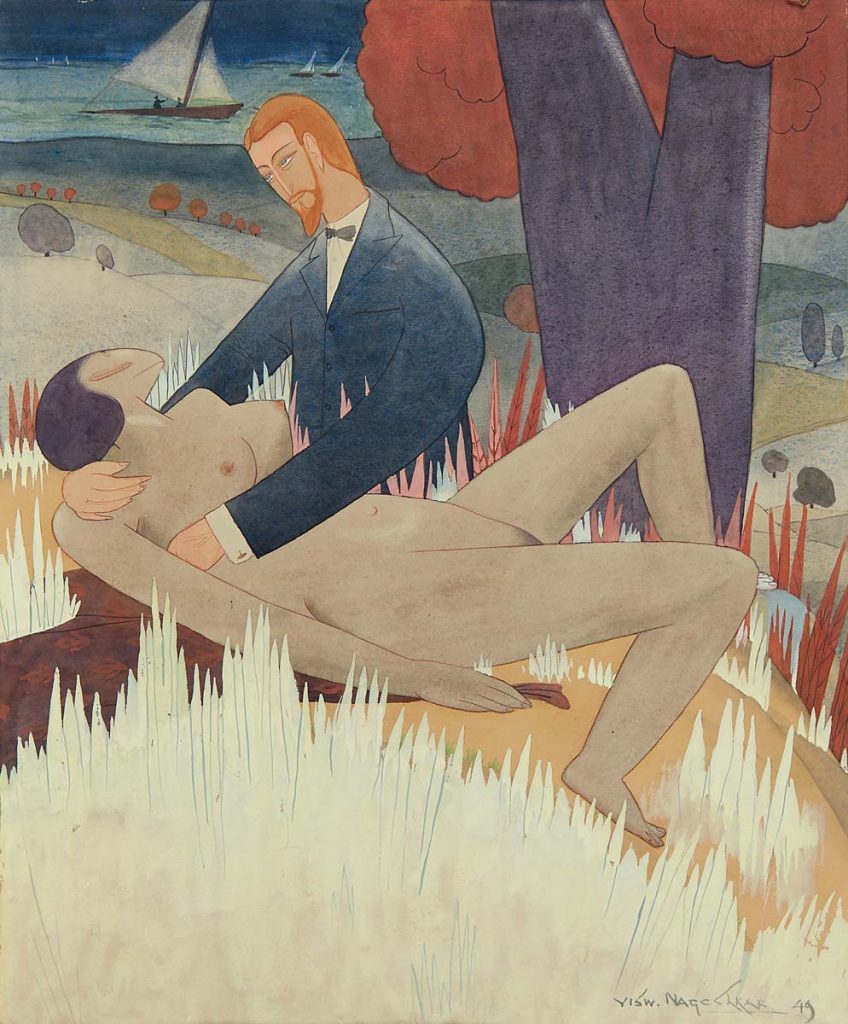 Vishwanath Nageshkar, Untitled, 1949. Courtesy of DAG.
India's French Connection: Indian Artists in France, DAG Gallery
Through March 1, 2019 
To celebrate its 25th anniversary, the DAG Gallery has curated a special exhibit of more than twenty Indian artists who lived and worked in Paris from 1920-1980 to explore the influence of French artistic movements on the development of Indian modern and contemporary practices in painting, printmaking, video, and sculpture. Paris—considered an artistic capital of the world—proved to be fertile ground where Indian artists could mix eastern and western traditions to produce work in styles and mediums they might not have otherwise. This included leading modernist S. H. Raza (1922-2016) who arrived in France in 1950 and remained there for sixty years to create vibrant works that fused western avant-garde ideas with an Indian spirituality. Nirode Mazumdar (1916-1982), known for his Tantric-themed Devi paintings, mingled in the circles of artists such as Constantin Brancusi and Georges Braque while in Paris during the years 1957-1967 to study European engraving. Nalini Malani (b. 1946), who received a scholarship from the French government to study Fine Arts in Paris during 1970-72 and immersed herself in French cinema while there, incorporated video installations in her own oeuvre. Other artists on view within the DAG's "French Connection" exhibition include: Sakti Burman, Prodosh Dasgupta, Sunil Das, Rajendra Dhawan, Zarina Hashmi, K. K. Hebbar, Himmat Shah, Amrita Sher-Gil, Prokash Karmakar, Kanwal Krishna, Ram Kumar, Laxman Pai, Nirode Mazumdar, Anjolie Ela Menon, Nasreen Mohamedi, Sailoz Mukherjea, V. Nageshkar, Akbar Padamsee, Syed Haider Raza, Krishna Reddy, Jehangir Sabavala, Paritosh Sen and V. Viswanadhan.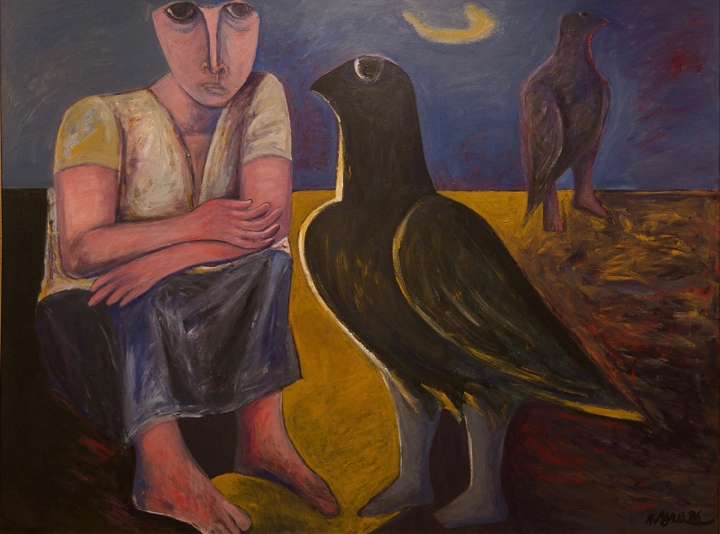 Ahmed Morsi, Black Bird II, 1986. Courtesy of Aicon Gallery.
Ahmed Morsi: The Flying Poet, Aicon Gallery
December 6, 2018 – January 12, 2019
Egyptian artist Ahmed Morsi (b. 1930) paints his birthplace of Alexandria in an imaginative, inventive manner based on his own remembrance of a city that he left behind a long time ago. Through his dreamy Surrealist-style paintings, he revisits Alexandria with wide-eyed figures, fishes, birds, clocks and other recurring elements. Morsi has been widely celebrated in the Gulf states for his contributions to art, journalism and literature but remains lesser known in the United States making this exhibit timely and essential.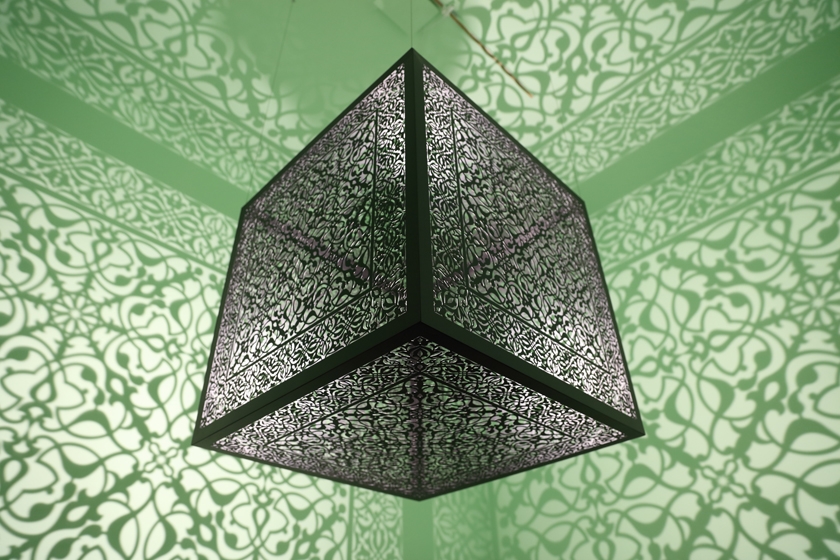 Anila Quayyum Agha, Shimmering Mirage, 2016. Courtesy of Sundaram Tagore Gallery.
The Art of Paper, Sundaram Tagore Gallery
Through December 15, 2018
Anila Quayyum Agha is included in this exhibition highlighting works on paper with her dazzling large-scale, laser-cut cube which casts "lace-like, floor-to-ceiling shadows" to create intricate patterns found in mosques. This is alongside Korean artist Chun Kwang Young's painstakingly crafted triangular amalgamations, prompted by memories from his childhood of seeing medicinal herbs wrapped into tiny packages with mulberry paper, and hung from the ceilings of doctors' offices. Miya Ando, who is known for her abstract works using industrial materials, continues her exploration in light, reflection and time through an ethereal Gekkou series on paper inspired by the moon. Calligrapher Hassan Massoudy employs a vibrant palette of blues, greens, yellows and reds to inscribe large-scaled Arabic text onto paper to create images that capture the gestural energy of his hand at work. Also on exhibit are: Olivia Fraser's intricate and meditative works on wasli paper influenced by 19th-century Jodhpuri paintings, Ricardo Mazal's spiritual, photo based prints of sacred burial rituals, Sohan Qadri's three-dimensional paintings made from thick intaglio paper, and Hiroshi Senju's works made with bespoke washi (mulberry paper) from a master papermaker in Japan.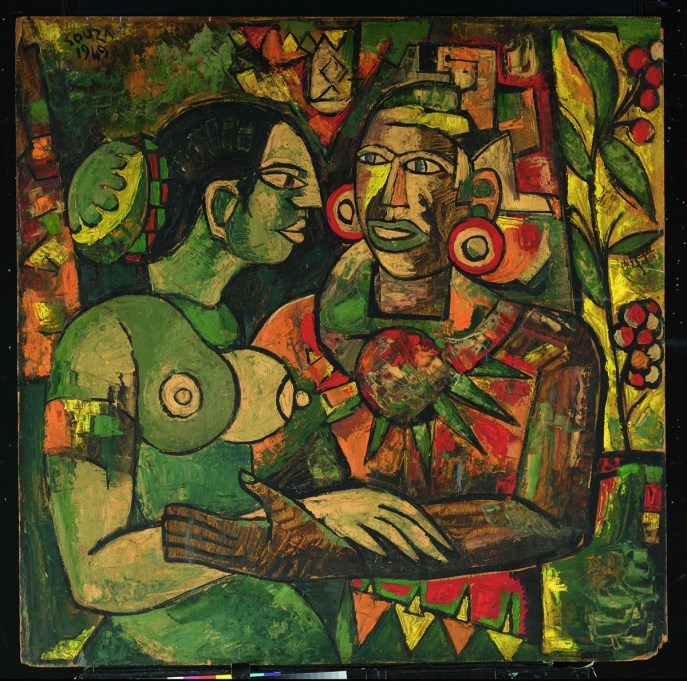 F. N. Souza, Mithuna (Lovers), 1949. Courtesy of Christie's Images Ltd.
The Progressive Revolution: Modern Art for a New India, Asia Society
Through January 20, 2019
A few months after India gained independence from Britain on August 15, 1947, a group of six young artists—K. H. Ara, S. K. Bakre, H. A. Gade, M. F. Husain, F. N. Souza, and S. H. Raza—formed the Progressive Artists' Group (PAG) in Bombay to formulate new artistic interpretations within a country dealing with political and social turmoil. They, along with Krishen Khanna, V. S. Gaitonde, and Mohan Samant who joined them in the early 1950s, and Ram Kumar, Tyeb Mehta, and Akbar Padamsee, close affiliates of the PAG, came to be known as the Indian modernists or Progressives. The exhibit explores how these artists from diverse backgrounds came together to take Indian art into a new era.

Kazuo Shiraga, Kaku Rou (Threatening Wolf), 1963. Courtesy of Hauser & Wirth.
Gutai, Hauser & Wirth 69th Street
Through December 22, 2018
The 'Gutai' exhibition explores one of Japan's most innovative and influential avant-garde movements that was characterized by experimentation, individuality, physical action, and psychological freedom. Works by Gutai artists Tsuyoshi Maekawa, Takesada Matsutani, Sadamasa Motonaga, Shozo Shimamoto, Kazuo Shiraga, Atsuko Tanaka, Chiyu Uemae, Tsuruko Yamazaki, and Jiro Yoshihara expand upon concepts of art, body, space, and time. Formed by Jiro Yoshihara in July 1954 in the Ashiya region of Japan, the Gutai Art Association challenged artists to discard traditional practices and discover new ways of expression while contemplating the root of artistic expression. As a result, artists created a range of work that included performances, installations, flower arrangements, and musical compositions. Through this exhibit, Hauser & Wirth shows the important role these artists played in the development of the Japanese Gutai.

Vajracharya Priest's Crown, 1717. Courtesy of The Metropolitan Museum of Art.
Crowns of the Vajra Masters: Ritual Art and Performance, The Metropolitan Museum of Art
Through December 16, 2018 
Presented in Gallery 251 at the Metropolitan Museum, this exhibit showcases five ritual crowns—including an early thirteenth-century Vajracarya crown—from a five-hundred-year period that were worn by Nepalese Buddhist priests and the role they play in the "visual manifestation of power." The crowns have been crafted by local Newars in the Kathmandu region using the ancient repoussé metalworking technique which has been in practice since the seventh century whereby sheet metal is hammered from both sides to produce a three-dimensional bas-relief. The gem-encrusted crowns which weigh approximately five pounds or more are on display along with paintings depicting ritual performance, bronze and wooden ritual utensils, Nepalese cloth paintings and archival photographs.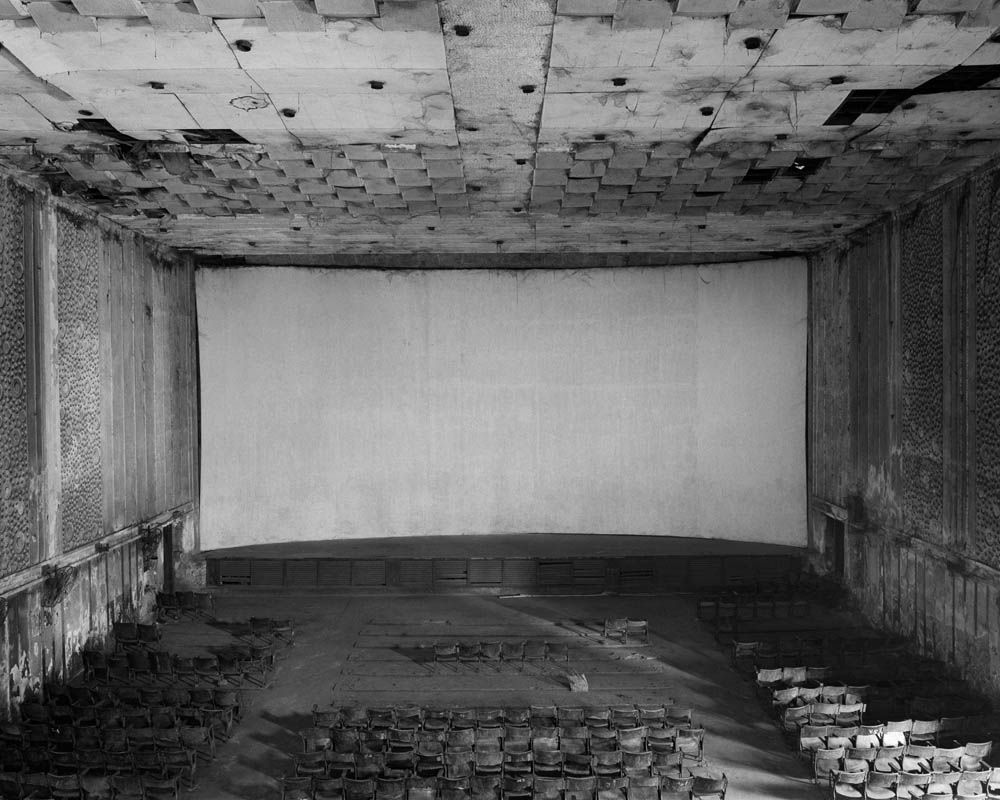 Nandita Raman, Untitled #1 (Prabhat), 2009. Courtesy of the artist.
Cinema Play House, Museum of the Moving Image
Through January 27, 2019
Visual artist Nandita Raman's Cinema Play House series documents the decaying spaces of the nearly extinct single-screen theaters in India which were built in the first half of the twentieth century, a period when cinemas became a national obsession. Rapid modernization gave rise to multiplexes and home entertainment systems making these old-world, family-run establishments mere artifacts. In fact, Raman's mother's family owned the first single-screen theatre in Varanasi, India which operated from 1933-1992. After it was shut down, she returned to India from her home in New York to capture these decrepit theaters in Indian cities by contemplating how their owners might have designed them. "These theaters seemed to contain cues to the psyche of the people who built it and who occupy it. As if the space and how it's arranged is an extension of the occupier's interior. I'm interested in usage: manifestations of interaction between the space and the people, over time," she explains. Raman's photographs take the viewer behind-the-scenes and into the public areas of these once-glorious cinemas from a bygone period in Bollywood.