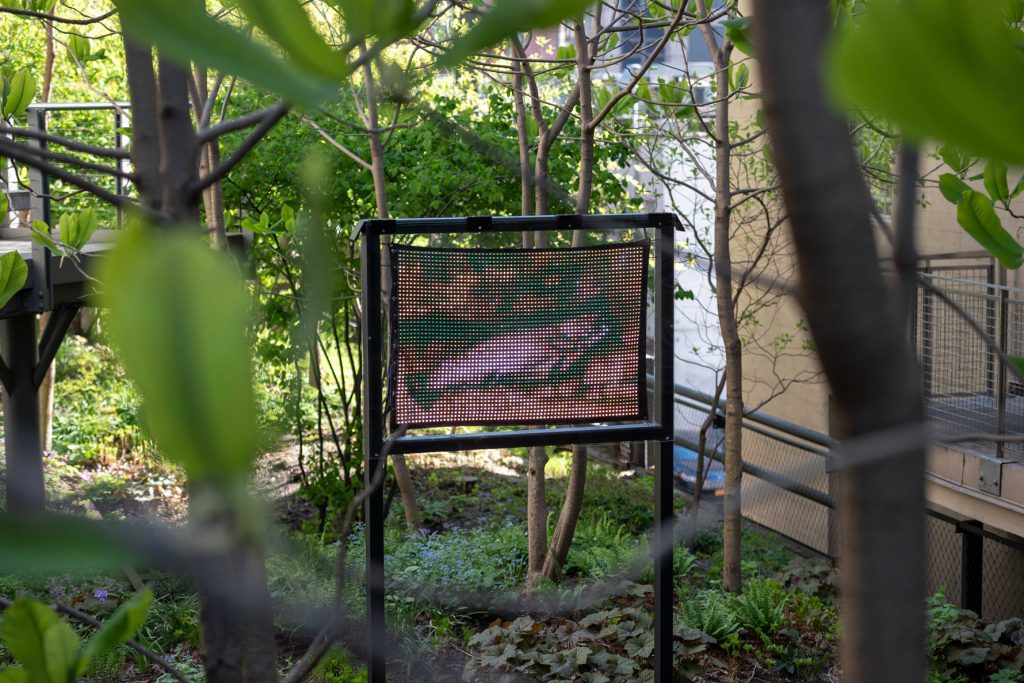 Towering in the air on old train tracks, the New York City High Line overlooks the city's Chelsea neighborhood. Constructed on a raised freight line, it serves as a nearly one and a half mile railroad walkway of lush vegetation dotted with public art from creatives around the world. From April 2019 to March 2020, the En Plein Air (meaning, "in the open air" in French) exhibition is on display along the High Line.
It pays homage to painting in the outdoors, a common practice amongst the French Impressionist artists of the mid 19th century such as Claude Monet, Pierre Auguste Renoir and Camille Pisarro. With American portrait painter John G. Rand's invention of tin tubes filled with premixed colors, painters could pack up their easels, canvases and paint tubes and take their work from the indoors out. As Renoir said, "Without colors in tubes, there would be no Cézanne, no Monet, no Pissarro, and no Impressionism." During the Industrial Revolution when infrastructure increased in populated cities, many artists preferred working outside in the peaceful and serene countryside.
En Plein Air finds the perfect home in modern times in the foliage-filled High Line and features the works of Ei Arakawa, Firelei Báez, Daniel Buren, Sam Falls, Lubaina Himid, Lara Schnitger, Ryan Sullivan and Vivian Suter.
Ei Arakawa, a Japanese-American artist, is known for his performance-based art and collaborations. Born in Iwaki, Fukushima Prefecture, Japan in 1977 and based out of New York since 1998, he incorporates physicality and improvisation through action in each of his innovative pieces. His exhibitions and performances have been included at institutions such as Museum Brandhorst in Munich, Carnegie International in Pittsburgh, The Museum of Modern Art in New York and many more.
At the High Line, Arakawa's work can be found right off of 26th Street and 10th Avenue. The two pieces, IN VINCULIS FACIEBAT (Gustave Courbet, La truite, 1873), 2019, are singing LED paintings which serve as a translation of the still lifes of a huge trout painted by French artist Gustave Courbert (1819-1877) in 1873 after he had served six months in prison for his participation in the 1871 Commune of Paris against the French government's capitalist motives towards art institutions. Hence, Arakawa includes the words IN VINCULIS FACIEBAT within the title which mean "made while in chains" and refer to Courbet's condition. Along with their illuminative LED elements, the paintings also sing a song written by Arakawa and Dan Poston (with music composed by Forrest Nash) to greet High Line walkers with an unexpected musical element. "There is something a bit irritating about seeing LED under the sun within nature. Impressionists are very popular in Japan, but I want to communicate more with artists' struggles or resistances. I hope those "scenarios" activate the public space in an unexpected way," explains Arakawa.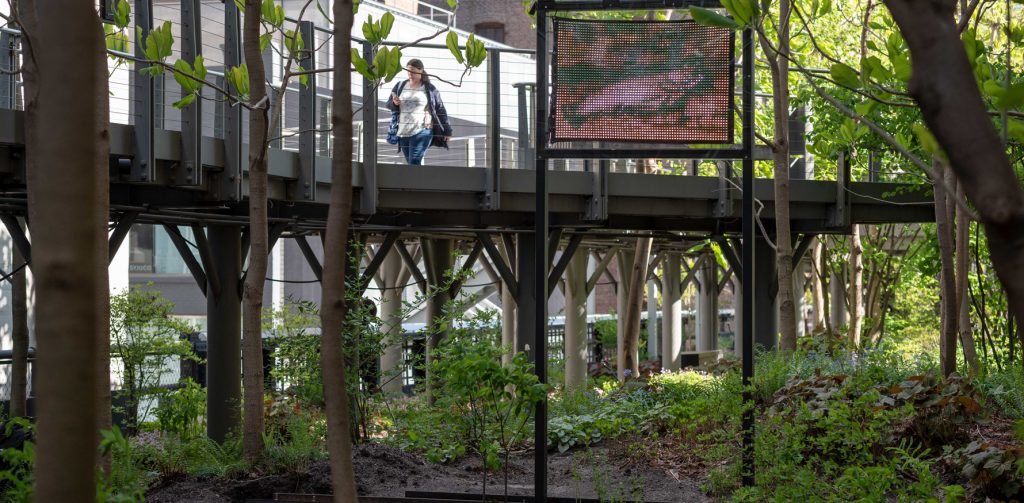 Arakawa tips his hat to French history and the Impressionist movement through his participation in the En Plein Air exhibit at the High Line, with his artworks delicately framed by the gardens surrounding them, proving that the European movement from over two hundred years ago can be reinterpreted in a modern, global world thanks to the symphony of music and reflective LED lights.
En Plein Air is on exhibit at the New York City Highline from April 2019 to May 2020. The park runs from Gansevoort Street through Chelsea to the West Side Yard on 34th Street. // Photographs of artworks by Timothy Schenck. // Words by Autumn Miller.