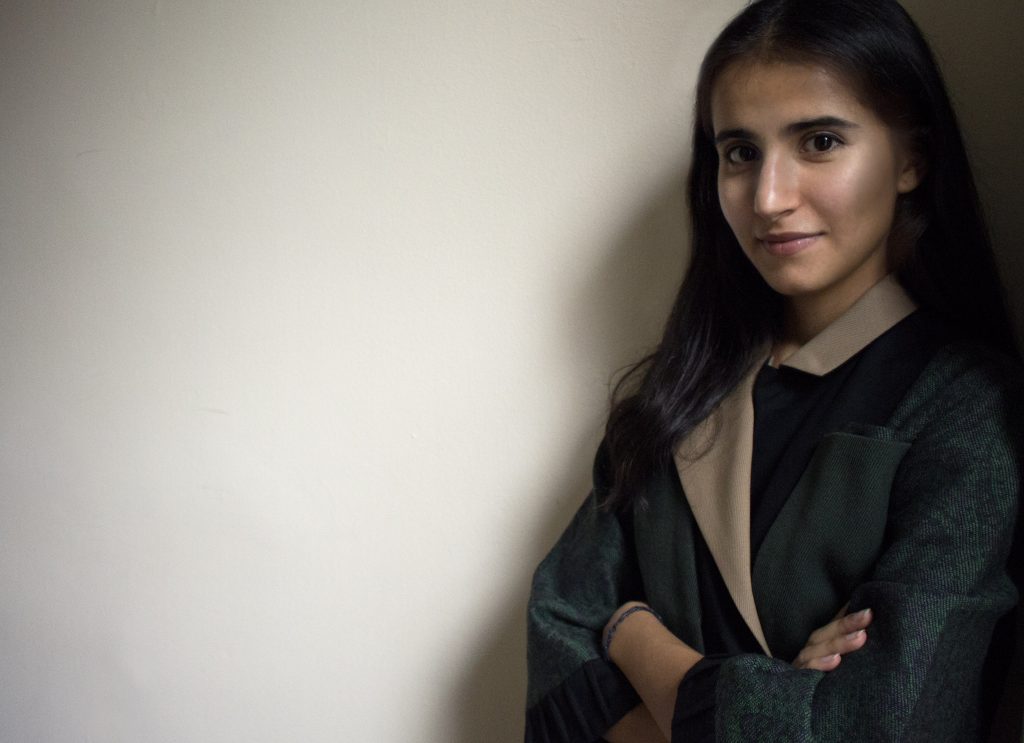 Born in Hong Kong, and currently living between New York City and Manila, Dinisha Gagoomal graduated from Parsons School with a degree in Fashion Design. Her recent collection, "The Duality of Movement," incorporates elements from performance-based methods in movement psychology to inform the silhouette of her garments. The originality of her work piqued the interest of New York's fashion community including luxury department store Saks Fifth Avenue where she was invited to display and discuss her work. We learned more about Dinisha's fascinating creative process that taps into designing from a deeper and more personal space.
J'AIPUR: Describe your creative journey to becoming a designer.
Dinisha: I remember my mum telling me a few years back that she had the urge to suddenly pick up a brush when she was pregnant with me. She had never pursued painting in her spare time but she just had to start when I was in her belly. She felt my creativity so strongly that it came through her. When I saw her paintings, I was shocked. They were of two geishas in ink and watercolor. They reminded me of my own style of work at the time. This makes me think that my journey began some lifetimes ago.
I have always been a creative person, right from the womb. It has translated in different ways throughout the years, beginning as a desire to be a hairdresser when I was seven. By the age of eight, I wanted to be a fashion designer so I started drawing boxy figures and putting clothes on them, specifically beachwear. I didn't know how I was going to make that a profession, and I wasn't attached to it, but I knew Parsons taught it, and all I wanted was to go there. During my last two years of high school, I focused on my art and somehow my final pieces all ended up relating to fashion or textile design, and that's when I really knew fashion was the right medium for me to express my creativity.
J'AIPUR: You grew up in Asia and went to school in the United States. How does that reflect in your design sensibility?
Dinisha: I lived in Hong Kong for about 18 years. Life was very structured and I didn't get a chance to go out and explore very often. Although I still don't know my way around, the environment, air, and culture there makes me feel at home. I couldn't foresee how I was going to adjust when I chose to move 8,000 miles away from the comforts and spiritual rituals of daily life. I just trusted that I would adjust, and after a major culture shock, I did.
Because that sense of culture is missing in New York, it has given me the window to design from a place where I yearn for connection. That desire to reconnect to the feeling of "home" has always been the driving force behind my work and it is what I express through my art.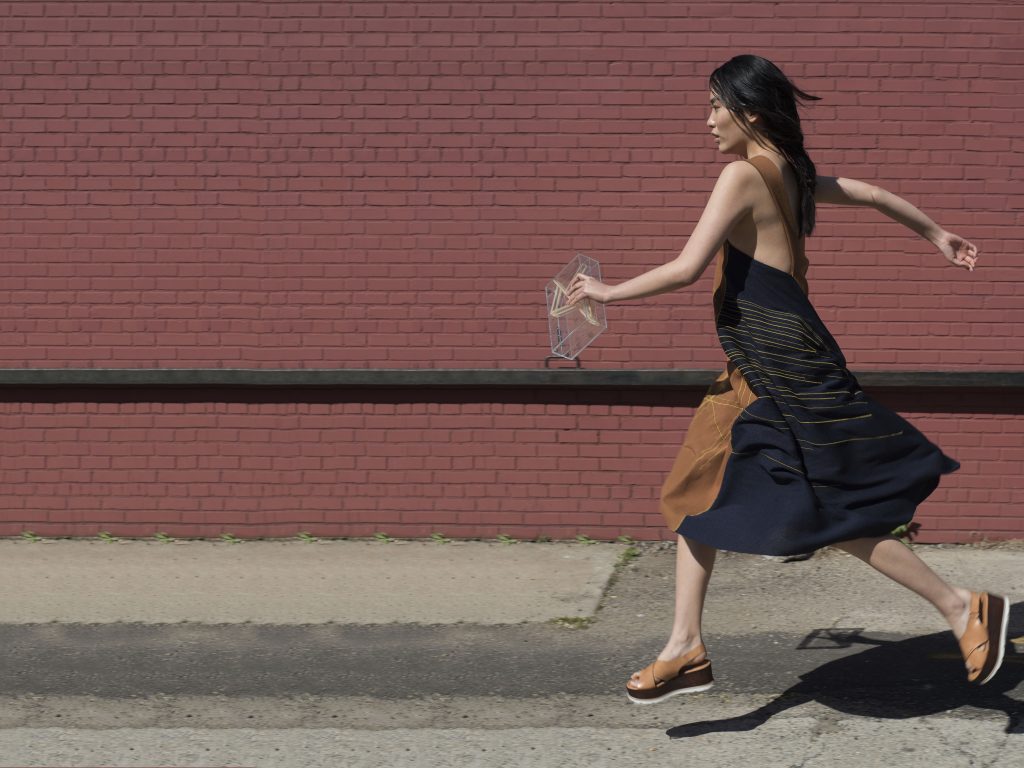 J'AIPUR: What gap do you see missing in the design space that you want to fill with your own work?
Dinisha: That deep personal connection behind the subject they are researching on and how they feel towards it is missing, or there's just not enough of it. There are so many reasons why this doesn't happen as much any more, but I think the biggest one is the way the industry works with insane production cycles. That's why I needed to take a break after university. Sometimes we just need to stop and reconnect.
I want to bring back storytelling to my customer and I want something deeper to be translated. I feel I'm starting to get somewhere with that, especially with my recent fashion collection, "The Duality of Movement," and with the development of my homewares collection.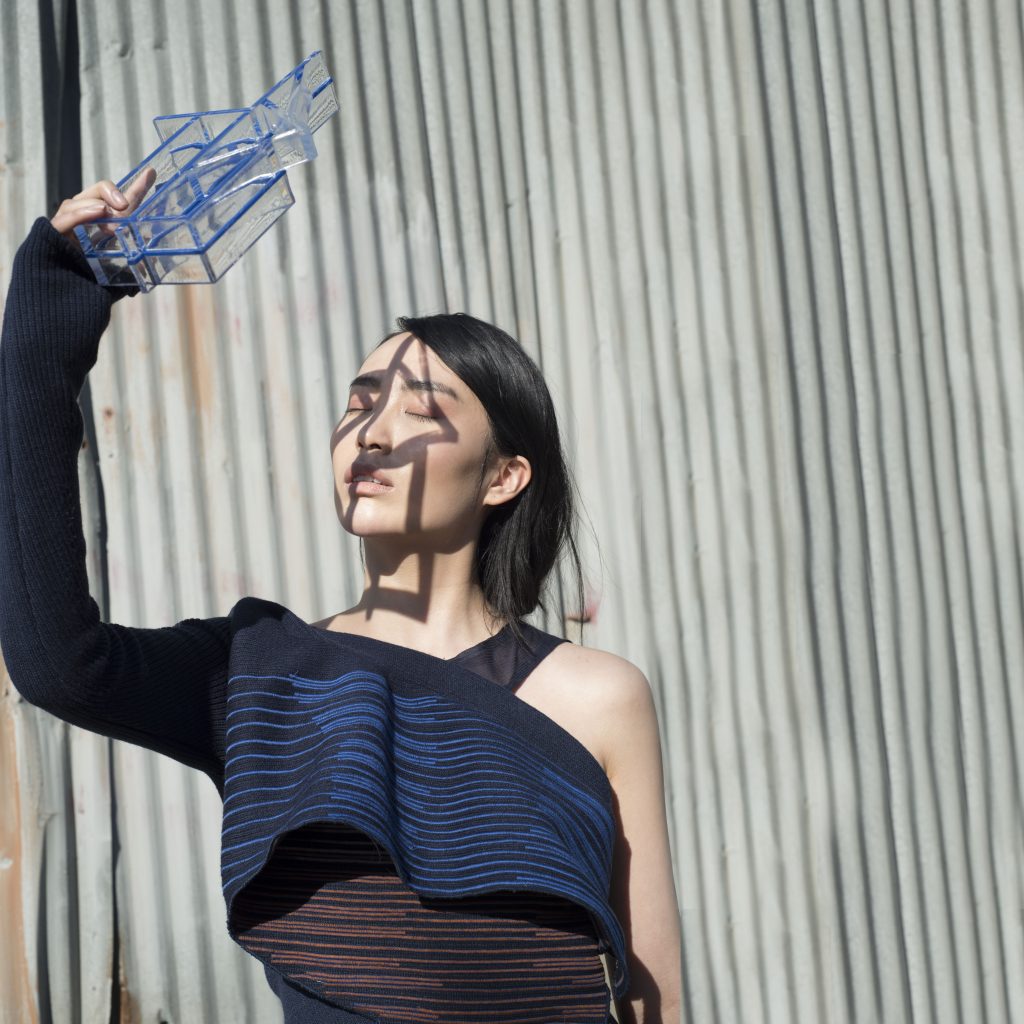 J'AIPUR: What was the inspiration for this collection?
Dinisha: I made myself the subject for my collection. I had about four months allocated to just research which I'm sure, for any designer, is an absolute gift. It all began with my desire and need to 'understand' my personality and to make it tangible in some way so I could eventually accept the humanity within. I explored this through psychophysical exercises, which are used as performance-based techniques by actors.
These exercises are simple movements which helped me embody the personality that I was exploring. I wanted to get into the character of the personality so I could understand it. I then constructed a coding system from my movement, consisting of symbols from which I draped the silhouettes of my garments. I'm sure it's a lot to take in when I try and condense it, but there's a more in-depth explanation of the process on my website.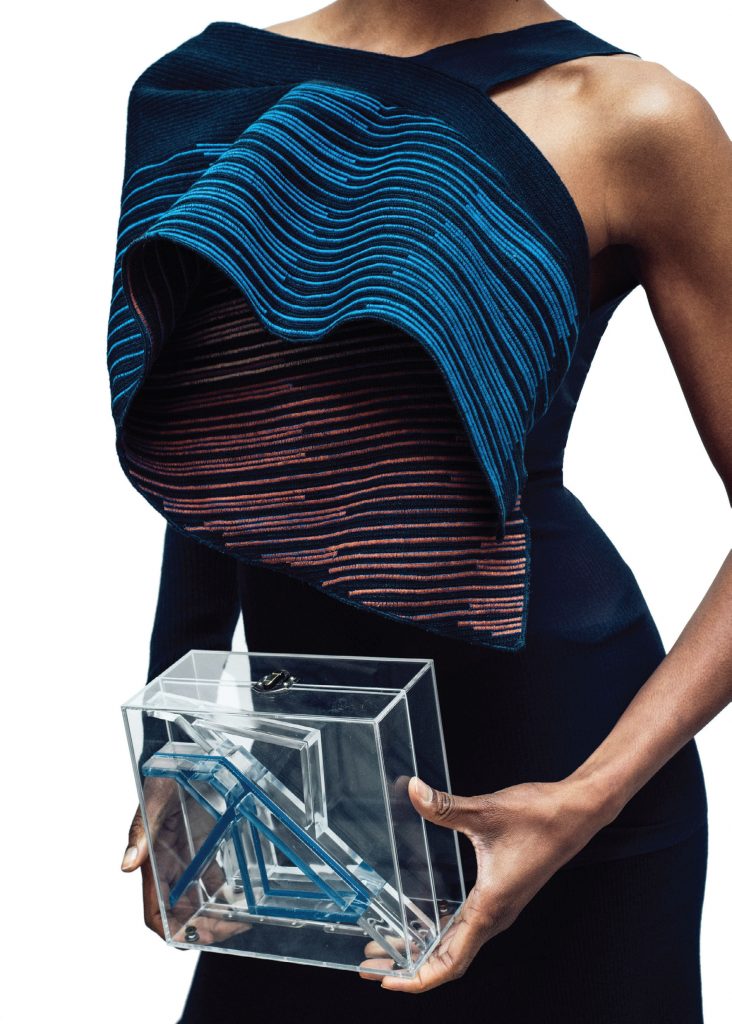 J'AIPUR: What led you to explore a technique that actors use, and how did you make the connection with fashion?
Dinisha: I was watching an interview with Hugh Jackman a few years back and he said something along the lines of, "I wish everyone could learn to be an actor because you're essentially learning about yourself." My best friend is an actor and he studied in a school that was informed by these pioneers of movement psychology, Yat Malmgren and Christopher Fettes. I was reminded of the techniques he had explained to me when I watched that interview. I became fascinated in the process behind constructing a character and learning about acting techniques. I have always believed that my body is a direct extension of my psychology and this was the perfect technique to express that.
J'AIPUR: That's interesting because it seems that you're taking 'personalization' to another level?
Dinisha: That was never my intention. Personalization is a by-product of the system I've created. My only intention going in was to make a connection with what I was feeling inside and translate that to something tangible in the form of a garment. When we say, "I'm wearing yellow because it makes me feel this way" it's dressing from the outside in. With my system, it's the other way around, it's dressing from the inside out, but it goes a step further because you're getting in touch with your inner psyche and that's informing everything about your garment. And with the way fast fashion is taking over, I feel making that connection is more important now than ever.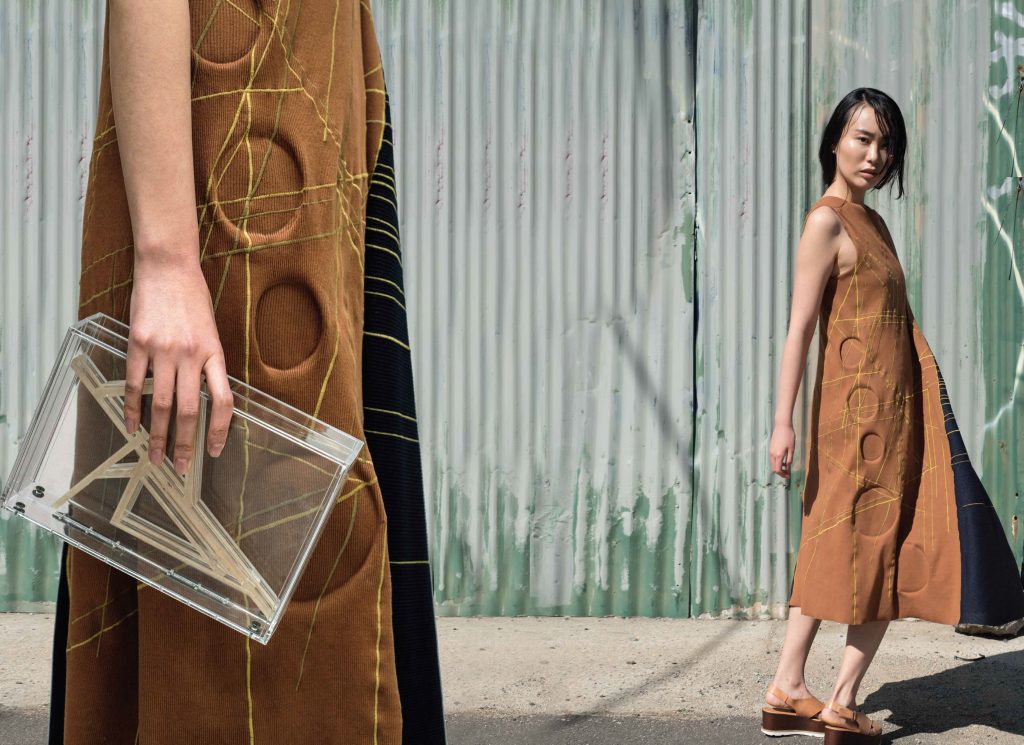 J'AIPUR: What were some of the highlights and challenges that came out of developing the collection?
Dinisha: In the beginning, I struggled and cried everyday after coming back from class. My teachers didn't really understand what I was doing, regardless of how well I tried explaining it to them. The process was complicated but I was committed to it. When it came time to translating the research into 3D, I was so attached to it that I was forgetting that intuition was the very basis of this project in so many ways. It was a whole new process of designing and I had no particular 'method' to reference or follow. I was so out of my comfort zone as someone who is used to structure. When it came time to present to industry leaders, I felt naked. I ended up getting into the semi-finals of "Designer of the Year" and then I was chosen by Roopal Patel, the Fashion Director at Saks, to display one of my looks. My work was different, but it must have been relatable. I feel something deeper was translated.
J'AIPUR: What has been your greatest challenge so far as a designer?
Dinisha: Time. Sometimes deadlines make me very creative and other times they limit me because I feel the potential is limitless. I can't predict how long it is going to take me to develop my research or to experiment with my silhouettes. There's always more that can be done. Also, 'perfection', is limitless. It drives me insane.
J'AIPUR: What advice do you have for aspiring designers?
Dinisha: Make sure that whatever you choose to research on is authentic to you and it's something that you're interested in, no matter what anyone of authority says. Enjoy what you do because that's the only way you'll be able to face those challenges. I was barely sleeping while creating my collection. Some days it was just a twenty minute nap, sometimes over continuous days. But, excitement was my fuel. Looking back, I would never do that to my body again. Be kind to yourself.
---
Dinisha Gagoomal interviewed by Rupi Sood in New York City. To learn more about Dinisha Gagoomal, visit her website. Designer's headshot by Gopal Divan; editorial images by Mark Elzey.