Tina Tandon is a New York based fashion designer selling her contemporary, ready-to-wear designs in trendy boutiques like Kitson (LA), Searle (NYC) and Mark Shale (Chicago). She has already made an impression on both Bollywood and Hollywood actresses alike as many of her dresses have graced the red carpet. Tandon, who grew up in different places around the world, brings a unique perspective to her designs. Her love for fashion began at an early age when she would accompany her mother to their family's tailor for custom-made outfits during her childhood spent in India. There, she became well-acquainted with various fabrics, cuts, designs and embellishments. As a graduate of the Fashion Institute of Technology (New York City) who began her career with stints at Escada and Christian Lacroix, Tandon's silhouettes blend the modern with a hint of American vintage to create classic pieces that are timeless yet effortlessly modern and chic.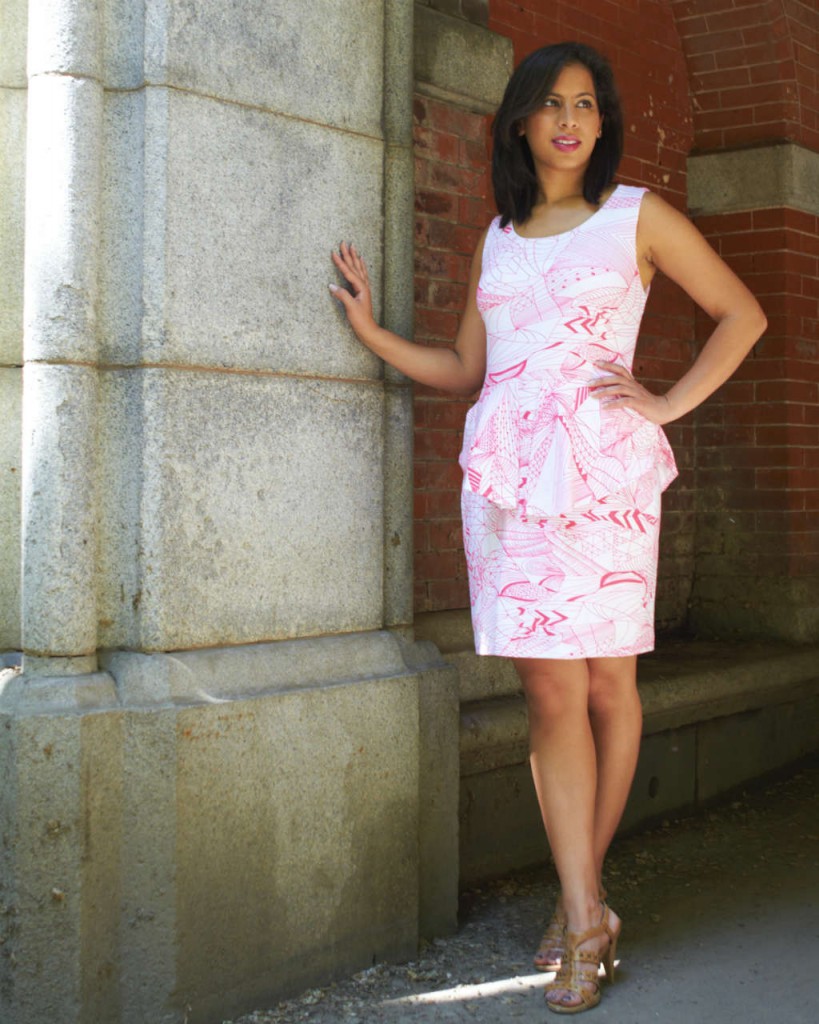 Describe your neighborhood in New York.
My design studio is in the Fashion District where I spend most of my time, and on 38th and Madison is our corporate office. I am always found running around in Midtown. It's full of fashion houses — everyone from Alexander Wang to Michael Kors to Donna Karan have offices/studios/factories there. So, I am always bumping into someone or another from the fashion industry fraternity.
What do you love about it?
Well, being the center of the fashion industry, this is where collections are dreamt, born and materialized. This area between 42nd and 35th Streets, nestled between 10th Ave and Madison Avenue, is where most of the magic happens. It is the cooking pot of American fashion that churns out new collections every season.
Describe New York City to someone who has never been.
New York is the true land of dreams. It's the city of ambition! Everyone is here to make it in some field or another, whether it be art, fashion, film, food, finance, journalism, you name it. The best of the best in every industry can be found right here. You can dream and achieve as high as the skyscrapers of this city's skyline, and beyond.
What are your favorite places for…
Hair? Asanda Aveda Spa – I like all things natural, ayurvedic, and eco-friendly!
Beauty (mani/pedi)? I usually do my own. There is a mani/pedi place in almost every corner of NYC but I prefer the hygiene of my own personal tools. And it is a bit therapeutic for me to do in my free time.
Facials? Caudalíe Vinotherapie® Spa at the Plaza Hotel – it's a pure indulgence!
Coffee and people-watching? The Standard in Meatpacking or Bergdorf's Café or The Plaza Café for some High Tea, if I am in the mood for some uptown glamour.
Date Night? Per Se.
After-work drinks? The Refinery Hotel rooftop, Bowery Hotel Bar, Rose Bar at the Gramercy Hotel, or the Boom Boom Room at the Standard.
Business Meeting? The Bryant Park Grill due to its convenient location in the Fashion District.
Dinner with friends? Whatever everyone is in the mood for. Somewhere in the West Village or Meatpacking is always fun.
Where do you go in NYC for inspiration?
Central Park, Bergdorfs, Saks, SoHo boutiques, and LES boutiques for the emerging designers.
How do you get around?
By foot, taxi, train. And my new favorite – GoGreenRide.com. There is no need to wait a long time to hail a taxi — you book one on your app, and it comes in minutes to pick you up.
Where do you like to shop…for yourself and/or others?
At my design studio!
Favorite hotel for a staycation?
The Plaza, SoHo Grand, Gramercy, Mandarin Oriental – there are endless options in the city.
Girls Night Out?
The Americano Hotel rooftop, La Piscine in West Chlesea and Meatpacking for bar hopping at Catch, PhD, Le Bain and Bagatelle.
What are you – an uptown or downtown type of girl and why?  
I would say I am a mix of both, and so are my designs. I have lived both in the Upper East Side and Chelsea areas, and both sub-cultures are a part of me.
What's a tourist attraction that you still enjoy visiting? 
Times Square is always full of energy, and of course shopping in SoHo.
Best cupcakes in the city?
Magnolia Bakery is still my favourite. Sugar Sweet Sunshine Bakery cupcakes are also really good. I have to mention these to-die-for macaroon ice-cream sandwiches at the François Payard Bakery in SoHO.
Best pizza? 
Grimaldi's across the river in Dumbo, Brooklyn. I used to work in the area when I helped launch the West Elm Interiors division for Williams Sonoma, and every time I passed by, there was always a huge lineup. Once I tried it, I was hooked! I usually don't eat pizza, and if I do, it has to be Grimaldi's.
Favorite museums?
MET, MOMA, FIT museums.
Where do you go when you need to escape the city that never sleeps?
To a beach in the Hamptons or Pier Village in NJ.
Describe a perfect day for you in New York.
It would have to be an easy Sunday, starting with a brunch at Bagatelle or Bubby's in Tribeca. Then, a leisurely stroll or afternoon picnic at Central Park on a warm sunny day. They always have a fun concert or a cultural performance there in the summer or at Lincoln Center. Catching one of those, and then a light dinner out before turning in.