Vikas Khanna is the Michelin-starred Executive Chef at Junoon Restaurant in New York. When he's not there, he's busy making documentaries, hosting the MasterChef TV show in India and writing cookbooks, his latest being Return to the Rivers, a gastronomic journey through the Himalayas inspired by a chance meeting with the Dalai Lama. Vikas was proclaimed GQ India's Man (Chef) of the Year in 2012 and appeared on People Magazine's 'Sexiest Man Alive' 2011 list. Culinary talent and good looks aside, Vikas also devotes considerable time to his charities related to disability and humanitarian issues around the world.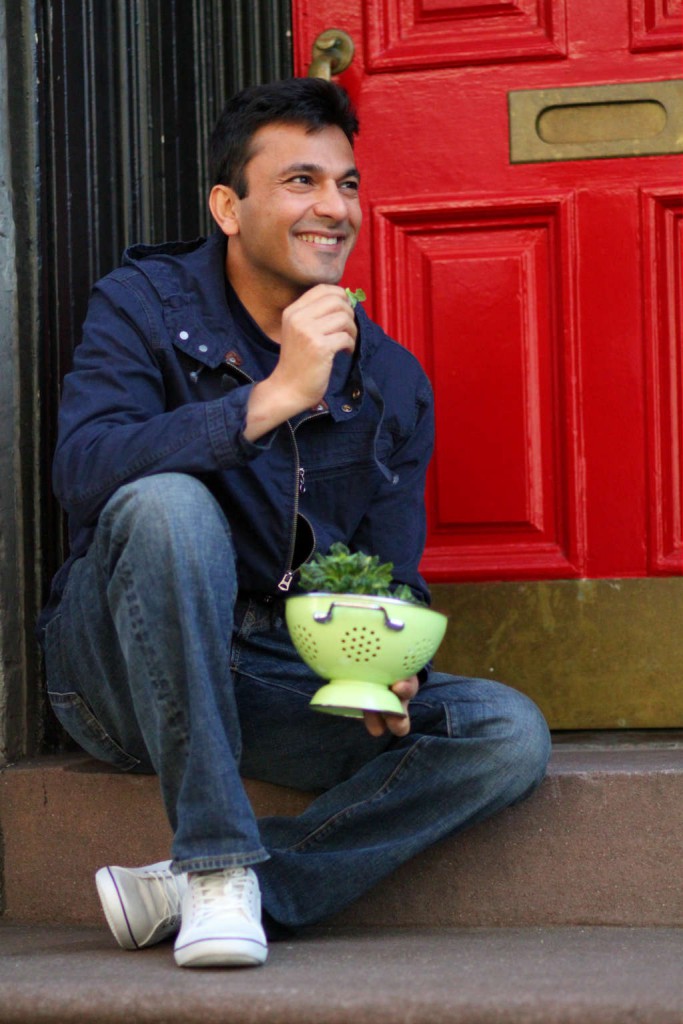 Describe your neighbourhood in New York.
I live right across the United Nations and love the quiet area, except for the UN Assemblies. I am at walking distance from Grand Central. I have lived here on and off since the last 13 years.
What do you love about it?
It has some pretty decent restaurants. Not super famous and that is what makes them so special. Quiet walks, great terrace overlooking my favourite, the Chrysler Building.
What are some of your other favourite neighborhoods?
LOVE Chelsea, East Village, Union Square, TriBeCa, Upper East and West Side…did I miss anything?
Describe New York to someone who has never been?
It's a city that is like a galaxy of stars. It's like bright fireflies filled with passion and creativity. Huge buildings that make you feel so insignificant and important at the same time. The hustle and bustle, the beauty – millions of reasons to fall in love with it, over and over again.
How do you get around?
Walk, walk and walk.
Favourite place for coffee or tea?
Bosie Tea Parlor at 10 Morton Street, Sarai at Rubin Museum, Tea and Sympathy.
Favorite places to eat in NYC when you're not at Junoon?
Oh God, so many of them. I can write a whole book on it. It all depends on the friends I am with. Daniel, Jean-Georges, Del Posto, Eataly, Shake Shack, Tamarind, Tulsi and Veselka.
Where do you like to shop for Indian ingredients?
Kalustyan's.
Where do you go in NYC for inspiration?
Union Square Farmers Market.
How do you stay fit?
Discipline, work-out, running and most importantly always staying away from stress and people that I can't handle.
Favorite place for a haircut?
Same place on Chambers Street and Broadway.
Best park to people-watch?
My heartbeat – Central Park.
Which hotels do you recommend to out-of-town friends?
James SOHO and Element Times Square.
Favorite theatres to catch a film?
I generally go to Lincoln Plaza and Angelika.
What's a tourist attraction that you love to visit?
I have to admit that sometimes when I am drained out I visit Times Square or Central Park South and walk aimlessly. It's truly rejuvenating.
Best brunch in the city?
City Bakery, all my friends know about that.
Favorite place to get a culture fix?
Lincoln Center for creative and new impressions of the arts.
Where do you go when you need to escape the city?
My terrace.
Best place to grab a fresh juice?
Melvin's Juice bar on Houston.
Signature dish(es) we should order at Junoon?
We keep changing the menu very often. Ask for specials where we create something very seasonal, creative and refreshing.
You've penned several cookbooks – favourite place to sit and do some writing?
I have a very quiet neighborhood and a garden next to my building. I love to sit outside – write, edit and imagine.
Describe your perfect day in the city.
Good run on the river, great breakfast in the West Village, walking in the sun or sometimes bicycling. Quiet place to read at Katherine Hepburn Park. Sitting outside, and having an early dinner.