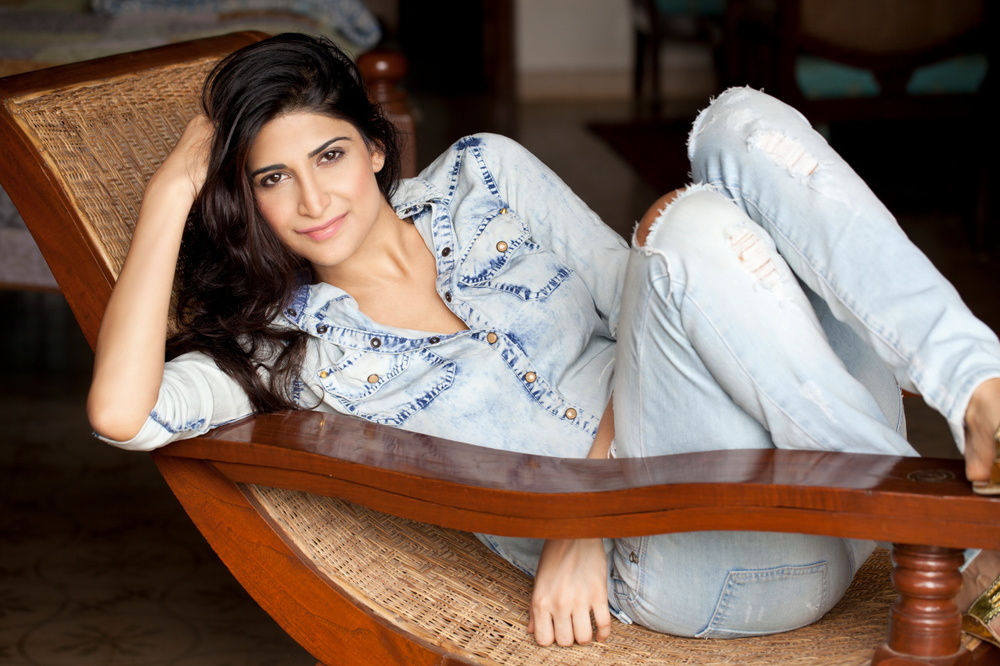 Aahana Kumra is a fresh new face in world cinema that is going places. Right now, she's on a whirlwind tour promoting her latest flick Lipstick Under My Burkha—centred around four Indian women searching for a little freedom in their lives—which has been banned in India for being "too lady-oriented". But that hasn't stopped audiences around the world from embracing the film about female desire, a topic that seems to be too much for India's Censor Board to handle. We caught up with Aahana, who began her career as a theatre actress, to learn more about her and the film which has already won several awards at festivals across the globe.
J'AIPUR: When did you realize you wanted to be an actress?
Aahana: I was always acting as a child when I didn't want to got to school or dance class or swimming class. My mother made sure I did everything as a child to equip myself for the future not realizing that it actually would help me years later. I was a day dreamer and always dreamt of being a Disney princess since I was obsessed with the world of Walt Disney (Pocahontas and Mulan being my favourite Disney heroines). I liked strong women while growing up and subconsciously I knew I was always going to play strong female characters.
J'AIPUR: What are three things that most people don't know about you?
Aahana: I think those close to me know me quite well but (1) I do come across as someone who doesn't get attached to people although I get very emotionally involved with my friends. (2) I can dance for 24 hours non-stop! (3) I have a great sense of humour (albeit self-proclaimed).
J'AIPUR: What was your first film project?
Aahana: I did an indie film called The Blueberry Hunt after graduating from film school with my mentor and guru Naseeruddin Shah. He plays a reclusive farmer of marijuana and I play his captive. It's about how these two worlds collide and the relationship that develops between these two characters within five days of captivity. It was my first film project and I was thrilled to play the lead with my teacher. In our free time he read so many stories to me. We also spoke about his NSD [National School of Drama] and FTII [Film and Television Institute of India] days and journey as an actor.
J'AIPUR: What's the best thing about being an actress?
Aahana: That I can live different lives and can experiment with my body, voice and looks.
J'AIPUR: What's one film that's influenced you the most and why?
Aahana: I've been influenced by The Silence of the Lambs which also happened to be the first Hollywood film I ever watched. There was something so uncomfortable about the story and performances that it has stayed with me to date. These are true human stories and I'm glad I was made to watch them early in my childhood. Anthony Hopkins and Jodie Foster left a very lasting impression in my mind. And somehow I was deeply affected and wanted to be a part of these stories.
J'AIPUR: How did you get cast for Lipstick Under My Burkha?
Aahana: I met Alankrita [Director of Lipstick Under My Burkha] through another filmmaker friend Sameer Sharma in March 2014.  He told me she had a fantastic script and was looking for an actress to play Leela. I went and met the director and we chatted. I think Alankrita had already decided then that she had found her Leela. I read the script and was blown away. I was like, I like her, she has guts! The dates however weren't working out since I was shooting for Yudh with Mr. Bachchan. The script stayed with me for a long time in my mind and I was very upset for not being a part of it. But I got a call from Alankrita again in August, and she asked if I was up for it. I jumped right in. I was like, I'm taking the plunge! It's not every day that an actor in India gets a script like this and we were shooting for it a month later.
J'AIPUR: Describe your character in the film and how you prepared for the role.
Aahana: I play Leela. She's a beautician and longs for a city life —a life away from Bhopal with her Muslim boyfriend with whom she's in a very heated sexual relationship. She's engaged however to be married to another boy who is Hindu. She wants something more from life than just marriage and children. Personally, I have a great relationship with Isabelle, my [beauty] parlour lady. She has been doing parlour jobs for me for ten years now. I know everything about her, her mother, her mother-in-law, her children, and her husband. We share a lot of stories and intimate ones too! She was my inspiration for playing Leela. Though Isabelle is very content in life, there [in the film] I struggle to find her own identity and I think that is the challenge for each one of us.
J'AIPUR: How do you feel about the film not being shown in India but receiving a warm welcome at festivals across the world?
Aahana: As a filmmaker the only thing one wants is appreciation from their audiences. Films are not always supposed to be a happily-ever-after stories. Life throws you into situations that you must deal. Of course the ban was a shock to all of us because we didn't ask for a UA certificate but an A certificate and we had no clue about their mindset until we were termed as lady-oriented. I don't understand what's the problem in being lady-oriented. We have been watching films for years from a man's point of view and here comes a film that talks about women and their desires, and it becomes a threat to the CBFC [Central Board for Film Certification]. It's sad to see that women must fight for everything while a man walks scot-free for making movies which have objectified women for years. There is a place for every film and that right cannot be denied.
The film is receiving so much love from all across the globe and it has become an international film. Unfortunately, the homeland is being denied the right to watch the film. It's almost like the CBFC is deciding for the whole of India which films the country should watch and which they shouldn't. That's not democracy.
J'AIPUR: What do you think audiences will take away after seeing this film?
Aahana: Audiences are very sharp. They know where to spend their money and where not to. People have moved towards watching real stories, human stories and that's what's uniting the world. We want to know the situations in other countries and I'm sure the world wants to know what's happening to women in India. In big cities and small towns, audiences trash a film instantly if they don't like something. Because there is so much coverage online, I think people from across the globe want to watch this film. It has a universal message and lots of women have connected with it. It's relatable. That has been the take-home factor in the film and we are happy that the film has started a dialogue.
J'AIPUR: What does 2017 look like for you creatively?
Aahana: 2017 has begun on a great note for me. I have been able to travel with this film to two continents and have received so much love and affection from audiences. I wanted to personally be a part of this journey with Alankrita. It's amazing that it has stirred the same feelings in women from other countries and I hope this unites women across the globe. I can't wait to get back to Mumbai and hope that the ban gets lifted so Indians can have the freedom to choose their cinema!
---
Aahana Kumra interviewed by Rupi Sood in New York City // Photo by Munna Singh